More than 100 firefighters have battled for hours to contain a raging bushfire that burnt out of control and threatened residents and their homes in the small town of Lake Clifton in Perth's south.
Aerial support aided fire crews on the ground to fight the blaze, which began burning near an intersection on Newnham Road about 11.35am, with locals forced to shelter indoors to surive.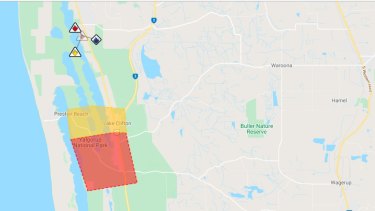 The 600-odd residents of Lake Clifton, about 110km south of Perth, were devastated by a deliberately-lit bushfire in January 2011 that destroyed 10 homes.
DFES downgraded its alert level for the blaze to a Watch and Act at 4.13pm, and told residents the fire still posed a threat to lives and homes as conditions were changing.