"The only concern for Lucinda is when they do go back she'll be wanting to convince us to let her stay at home."
People with autism spectrum disorder craved structure and predictability, and COVID-19 had taken that away, said Rahul Ganguly, senior lecturer at Charles Sturt University's school of education.
'(Most) people on the spectrum love working on a structure.'

Rahul Ganguly, senior lecturer, Charles Sturt University school of education
"With the vast majority of people on the spectrum, they love working on a structure. Everything is planned out," Dr Ganguly said.
"Then all of a sudden, this whole disruption has happened, and that's why there's likely to be anxiety and depression in some students, because they're not able to predict what will happen next."
At Rossbourne Secondary School in Hawthorn, 70 per cent of students have been formally diagnosed as being on the spectrum and the other 30 per cent have a range of learning disabilities.
Principal Shane Kamsner said the small school had been focused on clear instructions and maintaining connections while students learnt from home.
"Our focus has really been on keeping a connection with the students because we know that especially for students on the spectrum, anxiety levels can be quite heightened when there's change and a change of routine," he said.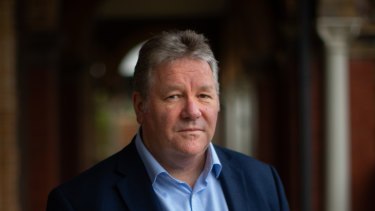 Mr Kamsner said that while a couple of students seemed to be thriving under remote learning, most had reported they missed school.
"I sent a little video saying 'Hello, we're missing you', and probably half the students responded to that. I asked them how they were coping, and nearly all of those emails said just how much they missed being at school, being with their friends," he said.
"We've also identified a number of students whose wellbeing has suffered. We know that mental health is declining a little bit.
"We invited a number of students to come into the school just to be physically here and have that connection with the school again. And the feedback has been positive, so we'll continue with that."
The federal government is trying to pressure the Victorian government to allow all students back to school this month, instead of in term three.
Dr Ganguly said any switch back to the classroom for students with autism spectrum disorder would need to be gradual, such as one day a week.
"Once they go back to school they will have been doing [remote learning] for maybe two or three months, then all of a sudden the structure changes again," he said.
"My thing would be to have a transition plan, where the parents and the teachers prepare for gradual inclusion to school without having any disruption to behaviour."
Madeleine Heffernan edits The Age's Monday education page