"There's no point going over unless you're going to give your best," Warriors owner Mark Robinson said. "It might be the making of the club, you just never know. The players have been thinking about the club as well as themselves, and I think that's a great thing that has come out of it, to be honest."
Not surprisingly, there was one final blip before the Warriors flew to Tamworth. Hooker Nathaniel Roache didn't make the trip after feeling unwell on Sunday morning, the first player to be segregated from a squad under the NRL's strict new COVID-19 guidelines.
Winger David Fusitu'a also stayed behind for personal reasons and will fly to Tamworth as soon as possible.
"We're totally satisfied Nate has had no contact with any other player or staff member at the club for several weeks and we're very comfortable we have abided by all policies and requirements," Warriors chief executive Cameron George said.
The Warriors will make the regional NSW town home for the next 14 days during their quarantine period after Australian Border Force finally signed off on their exemption on Saturday morning.
Club officials were forced to send gear over earlier in the week when the plane they had originally booked for the flight was deemed unsuitable for the runway at Tamworth Airport.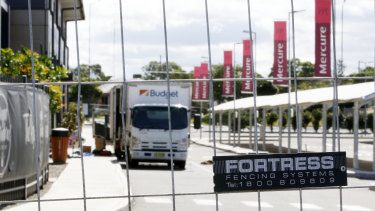 They will make Tamworth's Mercure Hotel their home for the next two weeks, the accommodation adjacent to West Tamworth League Club.
Scully Park is next to the hotel and a perimeter has been set up around the club and ground precinct so no members of the local community will be able to come into contact with Warriors players or staff.
Loading
Each player will have their own individual room and will not be able to visit teammates, while a gym has been set up within their complex. All meals will be prepared out of the leagues club kitchen.
Local police have warned the NRL and the Warriors they will make random checks to ensure the players and staff are adhering to the quarantine regulations.
The travelling party is expected to move to the Central Coast once they have finished their two weeks' isolation in Tamworth.