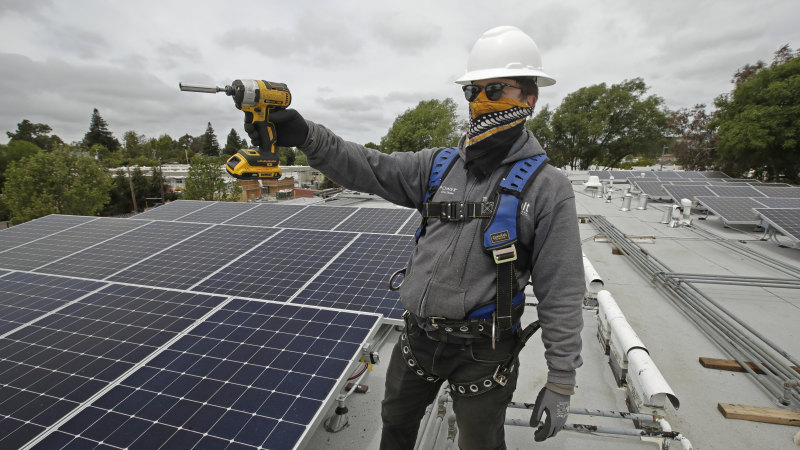 CBUS super fund board director Stephen Dunne said in the wake of the coronavirus, the business community would be wary of investing in projects exposed to the "systemic risk" of climate change. Mr Dunne is chairman of the Australian Investor Group on Climate Change which is a member of the Investor Group.
"Investors are increasingly pricing climate risk into their investment decisions and looking for resilient assets that will provide sustainable returns," he said.
This week, the International Energy Agency, an intergovernmental energy forecast adviser, highlighted opportunities in the energy sector in the wake of COVID-19. Global energy demand is forecast to fall a whopping 6 per cent this year, seven times more than during the global financial crisis.
But emissions returned to previous heights around two years after the 2008 financial crisis. IEA executive director Dr Fatih Birol said the energy industry that emerged from the pandemic would be "significantly different".
Dr Birol said "only renewables are holding up during the previously unheard-of slump" in global consumption of electricity, oil and gas. Clean energy "can create jobs, make economies more competitive and steer the world towards a more resilient and cleaner energy future", he said.
Loading
Energy and Emissions Reduction Minister Angus Taylor has said he wants Australia to capitalise on depressed global oil and gas markets to deliver cheap energy for industry to aid the recovery.
He has also directed the Clean Energy Finance Corporation to invest $70 million in private hydrogen energy projects powered only by renewable energy, and $300 million in projects which can include gas power.
Last week 60 companies issued a statement ahead of Germany's Petersberg Climate Dialogue including major multinationals ThyssenKrupp, Bayer, Puma and Allianz calling for the German government to "closely link economic policy measures to overcome both the climate crisis and the coronavirus crisis".
Mindy Lubber, chief executive of US-based sustainability advocate group Ceres, which boasts a network of 175 institutional investors managing more than $29 trillion in assets said "policymakers and regulators have a chance to reshape a new resilient economy in fundamental ways that better protect us from system threats, like the climate emergency".
Loading
Emma Herd, chief executive of the Australian Investor Group on Climate Change, said "government policy that spurs fresh private investment in clean energy … will lead to much needed jobs and economic growth".
"The Australian government should be looking to integrate recovery plans with its technology investment roadmap, long-term emissions reduction strategy, grid modernisation planning and bushfire recovery to build greater resilience and reduce climate risk," Ms Herd said.
Mike is the climate and energy correspondent for The Age and The Sydney Morning Herald.