The document was sent on Monday and will be analysed by the Australian Health Protection Principal Committee, the decision-making committee in charge of providing health recommendations to the federal government.
While RA won't provide a copy of the document until feedback has been provided, there is a similar level of detail to that of the NRL's recent submission.
The idea of housing rugby players in a "bubble" has been knocked on the head, with RA set to allow players to live at home and continue training and playing.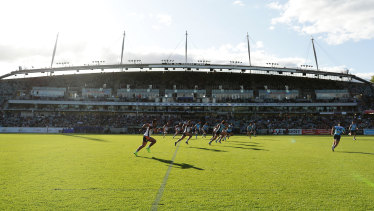 The plan is still for a truncated home and away season to begin around the start of July, which will see teams travel interstate for matches, pending approvals.
On top of the four Australian teams on the eastern seaboard, the Western Force and Sunwolves have been added to separate five-team and six-team proposals.
RA hopes its detailed analysis of how to prepare training and playing facilities will be enough to get the game back up and running with government approval.
Player temperatures will be taken daily, with anyone testing above 37.5 degrees unable to participate.
Worst-case scenarios regarding what happens if a player tests positive to COVID-19, travel plans and other roadblocks have also been covered in the document.
Potential venues for upcoming matches have not been mentioned or finalised.
Meanwhile, the NSW Waratahs and other Super Rugby franchises are preparing to return to training as early as next Monday pending a relaxing of government restrictions.
Clubs are waiting to see what comes of Tuesday's national cabinet meeting, with some suggestions the government could allow groups of 10 to congregate across the country.
That would give the green light for players to resume training from next week in groups of 10, albeit without contact.
At the moment players have only been able to continue fitness and skill work with one other teammate.
While NRL teams are scheduled to return to training in limited numbers on Wednesday, Australia's rugby players haven't pushed to train together in groups with the same urgency given their planned competition won't begin before July.
New Zealand Prime Minister Jacinda Ardern's presence in the cabinet meeting has also caught the interest of rugby officials given the potential of trans-Tasman travel in coming months.
The Waratahs, however, will have to quickly make plans for coach Rob Penney to make his way back from New Zealand when training resumes.
Penney has been stood down for a number of weeks during the COVID-19 lock down period, with NSW assistants Chris Whitaker and Matt Cockbain taking charge.
Loading
However, Penney has been working from afar and would want to get on a plane as soon as possible, particularly if he is going to have to self-isolate for 14 days before meeting up with players and beginning face-to-face work.
The Brumbies, who were comfortably leading the Australian Super Rugby conference before the competition shut down in mid-March, have told players to be back in Canberra by Sunday.
As for Force players, they could technically be training now given the WA government has allowed groups of 10 people to gather.
Tom Decent is a journalist with The Sydney Morning Herald