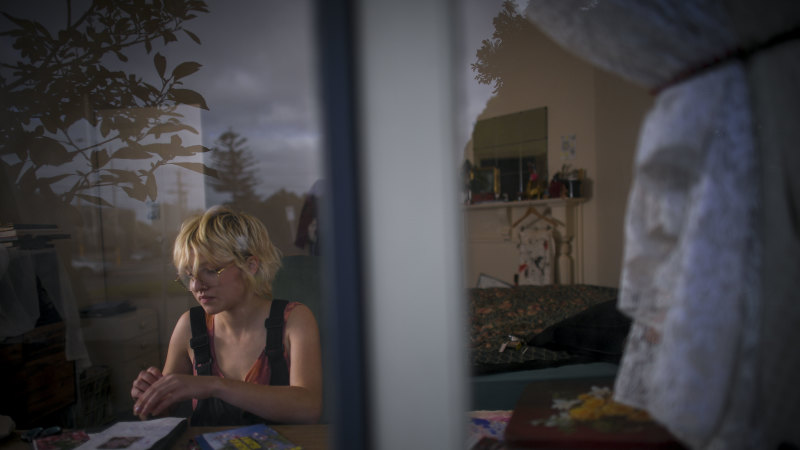 Since physical classes were cancelled in March, Ms Moxham's Footscray share house, which she shares with two other artists, has become a makeshift studio.
Some of Ms Moxham's practical subjects were simply cancelled while others have moved online.
"We have group critiques, in which 20 of us normally critique the work of four individuals in-class, talking about what we see, how it's been made," she said.
Loading
"That is now online via Zoom, so we take photos of our work, share them, then try to discuss it in a smaller group of three."
Ms Moxham believes she is receiving a fraction of the learning experience for the same cost.
"It's obvious our learning has been compromised," she said.
"We don't blame our teachers for any of this, but we do believe our leaders should take responsibility and be held to the appropriate level of accountability."
First-year VCA music student Jarrod Forster, a guitar player, bemoaned the difficulties of transitioning his improvisation class to a Zoom call last week.
"We were sending our audio signals to our teacher, who would mix them and send it back as one stream. But we had delays, I would strum my guitar and not hear it back for two seconds," he said.
"The music was out of time or abstract and loose. That experience of collaborating is lost."
Courses at VCA cost between approximately $6000 and $9500 a year.
A Melbourne University spokeswoman said the university's shift to online learning still "maximises the opportunities for students to study effectively and successfully, while maintaining the vitally important quality and standards of our degrees and sense of community".
However Hayden Williams, head of the VCA and Conservatorium of Music student union, called on the university to acknowledge that "learning how to dance, act and play in music is diminished in online environments".
"Nobody should expect 18- and 19-year-old students to take on debts when they're learning how to dance in the bedroom or trying to play in orchestras via Zoom," he said.
A Melbourne University student union survey of 6400 students last week identified "subject hotspots" that had a high number of complaints from students about learning quality. It said those subjects should be prioritised for any fee reductions.
Final-year Melbourne University veterinary medicine student Sarah Kent estimates her fees this year to be $30,000 – "steep but understandable since we are being so intensively trained", she said.
She said full-time placements in clinics, which normally make up the entire final year, had been replaced by one theoretical assignment per day to work through at home.
Ms Kent said she was worried she was missing out on crucial practical skills, such as drawing blood, setting up fluids, operating machines and interacting with clients.
"As a day-one new graduate next year, we are expected to perform basic surgery on our own and be able to do routine diagnostics," she said.
"External rotations are really important … I hardly think replacing that with a single online case per day adds up to $30,000."
Michael is a reporter for The Age.