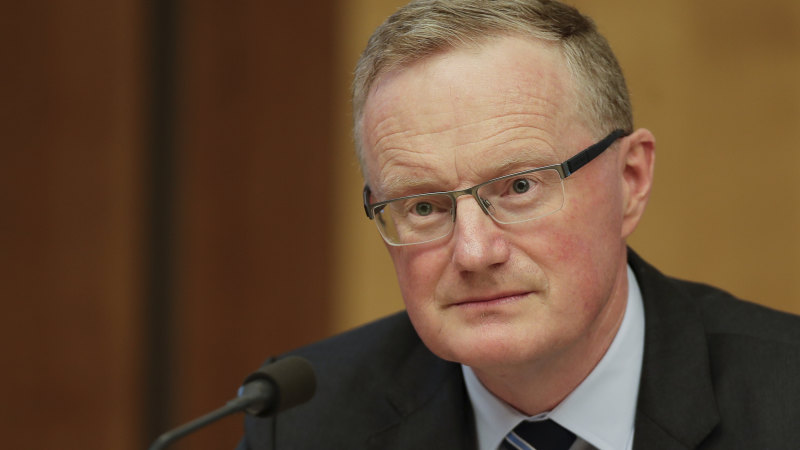 "The Australian economy is going through a very difficult period and there is considerable uncertainty about the outlook," he said.
Loading
Despite the lift in 2021, Dr Lowe said the bank expected unemployment to peak at 10 per cent in coming months and still be above 7 per cent at the end of next year.
He said there was scope for a stronger economic recovery if there was a "faster than normal" return to economic activity. But he warned if restrictions were delayed or needed to be reimposed, the impact would be even deeper than anticipated.
While Dr Lowe has signalled on several occasions 0.25 per cent is as low as the bank is prepared to take official rates, financial markets had put the chance of a cut on Tuesday at 60 per cent. The same markets believe the RBA's cash rate will still be at 0.25 per cent by October next year.
Dr Lowe said the bank would not increase interest rates until there was progress towards full employment. "The board is committed to do what it can to support jobs, incomes and businesses during this difficult period and to make sure that Australia is well placed for the expected recovery," he said.
Treasurer Josh Frydenberg, addressing the National Press Club on Tuesday, said while the government's programs were supporting the economy, there would be tough periods ahead.
"Notwithstanding Australia's progress to date on the health front and the unprecedented scale and scope of our economic response, our economic indicators are going to get considerably worse in the period ahead before they get better," he said.
It follows continuing signs of the economic hit being taken by the country as it deals with the coronavirus pandemic.
New car sales in April crashed to just 38,926, down more than 48 per cent on the same time last year and the worst April result on record.
The Australian Industry Group-Housing Industry Association's construction index, released earlier on Tuesday, showed a fall of 16.3 points in April to a record low of 21.6. A reading above 50 indicates the sector is expanding.
Sign up to our Coronavirus Update newsletter
Apartment building and commercial construction fell heavily through the month while overall activity, employment and new orders reached record lows.
"The fallout from COVID-19 played havoc with the already weak domestic construction sector in April," the industry group's head of policy, Peter Burn, said.
Shane is a senior economics correspondent for The Age and The Sydney Morning Herald.