Indonesia has recorded its largest single-day rise in coronavirus cases, with the national government announcing 484 new infections on Tuesday.
The previous high was 436 new infections in a single day on April 24.
In total, the country has now reported 12,071 positive cases and 872 deaths. The death toll rise by eight more people on Tuesday.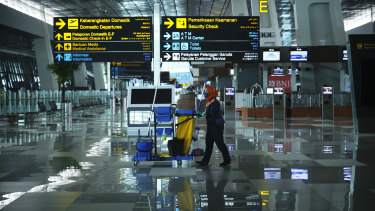 Previously, the Health Department's Achmad Yurianto and other officials from the country's COVID-19 task force have suggested they are optimistic the country will have the outbreak under control by June or July, provided Indonesians obey social distancing and other regulations put in place to stop the spread of the disease.
But on Tuesday, Yurianto appeared to push back the target date for a return to "normal" life.
"We hope that in August we can already have a better life, a new normal meaning we already have a disciplined life, discipline in washing our hands, discipline in doing healthy lifestyle."
After a slow start to rolling out testing across the country, Indonesia has now conducted 121,547 tests on 88,924 patients as labs across the country have set up testing facilities and the supply of the chemical reagents needed has improved.
Despite the recent increase in testing rates, Indonesia still lags far behind its near neighbours in Vietnam (261,004 tests), Malaysia, (154,212), Singapore (143,919) and the Philippines (126,154) – all of which have much smaller populations.
Restrictions on funerals will be the first to be lifted next week as South Australia looks to ease its coronavirus lockdown.
Warnings and limits on regional travel are also expected to go, with locals to be encouraged to get out and spend.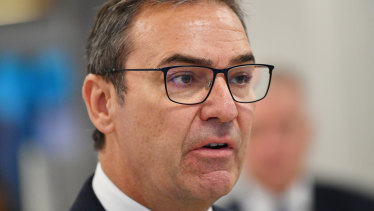 Premier Steven Marshall says the state's regions had been "doing it really tough".
"We've had dry conditions for much of South Australia for the last three, four or five years, we've had bushfires and now COVID-19, which is really drying up jobs," he said.
"So we're really keen to see the restrictions regarding regional tourism released."
On funerals, Chief Public Health Officer Nicola Spurrier said a limit was likely to remain on the number of people who could attend, but it would be increased.
"We will certainly be increasing the number of people at funerals. It's not going to be going back to normal, but I'm hoping it does make a difference to people's lives," she said.
Details of relaxed restrictions came on Tuesday as South Australia posted its 13th consecutive day of no new coronavirus infections.
Tim Dornin/AAP
Melbourne's return to NRL training is in disarray after Albury council voted that the club can not use the border town's sporting facilities.
The local council held an extraordinary meeting on Tuesday night after the arrival of 50 Storm players and staff into Albury, with concerns raised about the potential health risk.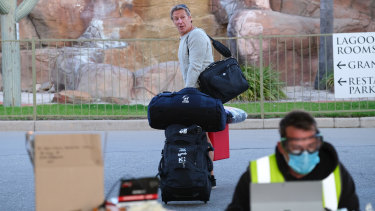 The councillors passed a motion that council facilities, including the home of the local rugby league club, Greenfields Park, should not be made available to the NRL club.
With the councillors voting five to four, the Storm will now have to source a privately owned sports ground or move to a completely new location.
Melbourne were set to stay in Albury at least until Friday, with the club saying the visiting party would be completely isolated from the general community.
The plan had NSW government approval but some councillors said it smacked of "double standards" given the restrictions on the general community.
– AAP
The number of active coronavirus cases in Victoria has risen to 94, making it the third day in a row in Victoria that the number of new people testing positive for COVID-19 has outweighed the number of new people who have made a full recovery.
Today there were 17 new cases confirmed and one new person listed as recovered, meaning the number of known active cases have risen by 16 since overnight.
Of the 52 net increase in confirmed cases over the past three days, 36 have been connected with a meat processing plant in Melbourne's west. The cluster at the Cedar Meats plant in Brooklyn now accounts for 45 known coronavirus infections.
But it's worth noting that this increase in new cases also coincides with the state government's testing blitz, so the number of people who are being screened for COVID-19 is also on the rise, potentially meaning that a higher proportion of active cases statewide are being identified than would have been previously.
Hong Kong on Tuesday said it would relax some of its social distancing measures, allowing certain businesses such as gyms, cinemas and beauty salons to reopen and doubling the number of individuals allowed at public gatherings to a maximum of eight.
Businesses must continue to observe social distancing measures, said Hong Kong chief executive Carrie Lam in a press conference.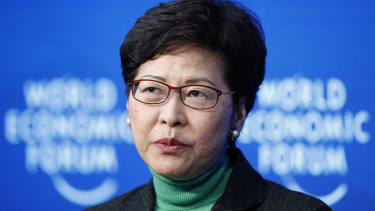 Schools will resume from May 27, with students in the more senior grades at secondary schools returning to schools first, while some younger pupils will follow suit in June.
Lam said Hong Kong's social-distancing measures will remain in place for two more weeks, until May 21.
All Hong Kong residents will receive a locally-developed reusable mask, and each household will also receive a packet of 10 disposable masks. Schools, and homes for the disabled and vulnerable populations will also receive face masks from the government.
Hong Kong has seen no local transmissions of the coronavirus for 16 consecutive days, and its total COVID-19 cases stand at just over 1,000, with four reported deaths.
– AP
Tasmania is considering direct flights to and from New Zealand for the first time in more than two decades under a mooted trans-Tasman travel bubble.
Prime Minister Scott Morrison on Tuesday said a safe travel zone between the countries had been discussed in recent weeks but was still "some time away".
Tasmanian Premier Peter Gutwein has held discussions with Tourism Tasmania and Hobart Airport about the prospect of direct flights.
"This isn't going to happen tomorrow, it's not going to happen next week," Mr Gutwein said.
"(But) as we work our way through the course of the calendar year if the opportunity arises … then that's an opportunity we will look at. It's one that I'm looking to pursue."
Mr Gutwein said appropriate quarantine and border force arrangements would need to be set up before any flights were possible.
"The one thing that we can't do is have a situation where the virus moves between the two countries," he said.
Direct flights last operated between New Zealand and Tasmania in the late 1990s.
Tasmania has gone four days without recording a new coronavirus case but 43 cases of a confirmed 221 remain 'active'.
Ethan James/AAP
Here are the major developments from today:
Another 17 people have been diagnosed with COVID-19 in Victoria, taking the total number of cases in the state to 1423. Eleven are connected to the cluster at Cedar Meats abattoir, taking the total to 45 cases linked to the business.
Prime Minister Scott Morrison declared it is now time to focus on kickstarting the Australian economy by getting people back to work. The Safe Work Australia website has been rebuilt into a resource detailing how businesses in different industries should set up their workplace in the post-coronavirus economy.
Workplaces will look very different post-coronavirus, said Chief Medical Officer Brendan Murphy. Hot-desking arrangements will have to change, and there could be staggered start and finish times and more meetings done on video platforms.
Flights between Australia and New Zealand are still "some time away", the Prime Minister said, after it was flagged in today's national cabinet meeting with New Zealand Prime Minister Jacinda Ardern.
Treasurer Tim Pallas announced the Victorian government would spend a further $491 million on tax relief, exempting businesses claiming JobKeeper from payroll tax. The government will also freeze fees, like car registration, and fines that were set to increase from July.
Treasurer Josh Frydenberg revealed in an address to the National Press Club that coronavirus restrictions are costing the economy $4 billion a week, with the economy is likely to shrink by 10 per cent in the June quarter.
Annaliese van Diemen, Victoria's Deputy Chief Health Officer, has deleted the Twitter app from her phone after her tweet comparing Captain Cook's voyage to Australia with the deadly coronavirus pandemic stirred controversy last week.
A senior NSW Health official has broken down giving evidence at the Ruby Princess inquiry in Sydney today, saying if the department could have their time again they would handle the situation differently.
When commissioner Bret Walker SC suggested there had been a "reprehensible shortcoming" by NSW Health in allowing people to disembark, senior epidemiologist for NSW Health Kelly-Anne Ressler said she was sorry for the way it had turned out.
"It was not our intent. Myself and my colleagues in the public health unit are working very hard on this," a tearful Ms Ressler told the Special Commission of Inquiry in Sydney on Tuesday. "We did what we could. And if we could do it again, it would be very different."
The cruise ship, which docked in Sydney on March 19, has been linked to more than 650 cases of COVID-19 in passengers and 21 deaths.
For the duration of the COVID-19 crisis, Please Explain is coming to you five days a week.
In today's episode, national editor Tory Maguire is joined by senior economics writer Jessica Irvine to discuss the potential economic implications of abolishing stamp duty.
Take a listen here: