In an attempt to avoid giving evidence, Munn couch-surfed at various addresses across the city before moving in with Mr Fry, a recently divorced father of three.
But Mr Fry, a gambling addict and drug user, was behind on his rent and facing eviction.
On April 9, 2018, after receiving a call to notify them of their pending eviction Munn, who was upset at the likelihood his housemate had gambled his $2500 rent away, argued with Mr Fry.
In an attempt to find more money, Mr Fry arranged to sell his Toyota Hilux ute to a prospective buyer in Truganina. But he never arrived.
The court heard Mr Fry was killed inside his home sometime between 2.10pm and 5.07pm that day.
Shortly after 5pm, the letting agent arrived at Mr Fry's home to evict him and lock up the property but after being unable to speak to the tenants the agent took photographs, put up some eviction notices and left.
All the while, Mr Fry lay dead inside.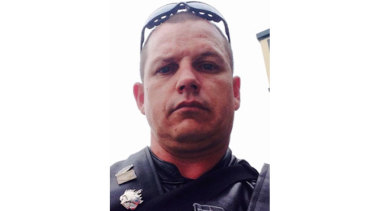 A witness later saw Munn loading "something heavy" into the back of a blue Holden Commodore station wagon which Mr Fry had been repairing for a friend.
"This was Mr Fry's body. You had concealed Mr Fry's body in carpet, a doona and a tarpaulin," Justice Champion said.
The court heard Munn returned to the property with friends numerous times over the coming days to remove Mr Fry's belongings. On some of these occasions he also drove friends around in the station wagon.
On April 12 Munn left the vehicle parked outside a home in Lara and, despite telling his friends not to drive it, they used the vehicle to collect a bicycle.
"As they opened the boot to transport the bicycle, and as they moved items around, the roll of carpet fell partly open, revealing Mr Fry's lower leg," Justice Champion said.
In a state of panic, the court heard the friends drove back to their home and said nothing. Munn later drove the vehicle back to North Shore and dumped it about 280 metres from Mr Fry's home.
Concerned neighbours who feared Munn had been selling Mr Fry's belongings deflated a front tyre and on April 15, six days after Mr Fry was killed, called police.
Officers discovered the victim's remains later that day and Munn was arrested on April 17.
A jury later found Munn guilty of murder despite him arguing that he killed Mr Fry in self defence after his friend came at him with a knife.
Justice Champion labelled Munn's actions as a "very serious example of murder" and sentenced him to 27 years behind bars with a non-parole period of 21 years.
He said the killer had engaged in a "deplorable course of conduct".
"Your efforts should be denounced as completely unacceptable," Justice Champion said.
"Your conduct lacked decency and humanity."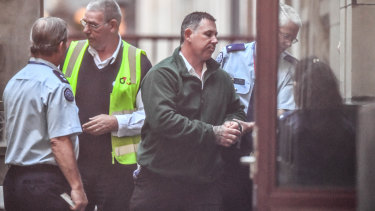 In a ghastly sequence of events, 16-year-old Ricky Balcombe's killer Karl Hague was jailed over the 23-year-old cold case murder in June 2018 – just weeks after Munn's arrest for his own crime.
On Tuesday, the court heard that it was likely Munn would be kept in protective custody for much of his time in jail due to his "strained" relationship with Hague and his prison associates.
Erin covers crime for The Age. Most recently she was a police reporter at the Geelong Advertiser.