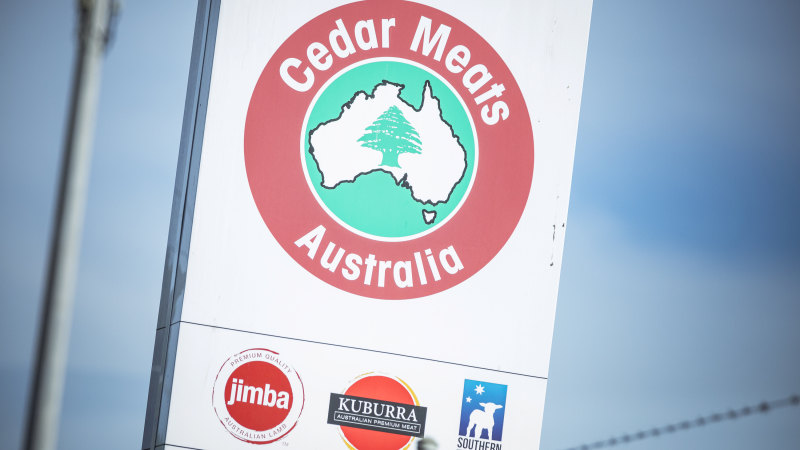 He said clusters would be reviewed to see if there were any lessons for contact tracing.
Four more positive diagnoses linked with Cedar Meats – which took the total in the cluster to 49 – were part of 17 new cases recorded in Victoria on Wednesday.
Seven other cases are returned overseas travellers who are in mandatory hotel quarantine and six cases remain under investigation.
Eight people remain in hospital with the virus, including six in intensive care.
After two weeks of single digit growth in new cases of the virus in Victoria the state has now had four days in a row of double digit increases, with 79 new cases confirmed in May so far.
The meatworks cluster has been described as an example of missed opportunities, while the Victorian government is facing criticism they have been too slow to release information to the public.
Australian Medical Association's Victorian president Julian Rait said he spoke to Dr Sutton on Wednesday, who conceded the department needed to be "a bit more transparent" about where outbreaks were occurring and provide earlier warnings, particular to local general practitioners.
"When they think there's more than a few cases at one site I think it is quite reasonable to engage with the local medical community," Associate Professor Rait said, who added that testing could then be ramped up.
Calls for a notification system for doctors have been echoed by the Royal Australian College of General Practitioners, and Victoria council member Dr Bernard Shiu said the health department was open to such a measure.
The first case linked to the cluster was detected on April 2, but steps to test all 350 workers at Cedar Meats did not begin until April 30, a number of days after a second and third case emerged.
Cedar Meats was not contacted by the department until April 27, according to the company, when they were advised a staff member who had been taken to hospital for emergency treatment on a severed finger had tested positive to the disease.
A Cedar Meats spokeswoman said the company had full confidence in health authorities.
Loading
"They have advised us that the positive case on April 2 (that we learnt about [on Tuesday] night in a phone call around 8pm) had not been in the workplace for four weeks prior to the positive test," she said in a statement.
"We do not know who that employee is."
Professor Mary-Louise McLaws, an infection control expert and adviser to the World Health Organisation's COVID-19 preparedness group, said there had been a number of "missed opportunities" to contain the cluster.
Professor McLaws said the meatworks should have been shut down following the April 2 case for environmental cleaning unless the company had been able to verify the infected man hadn't been at work.
She said abattoirs created ideal conditions for super spreading of infection, while meat workers were also likely to socialise and live together.
"A single case within the abattoirs would be highly unusual," she said.
Aisha Dow reports on health for The Age and is a former city reporter.