Richard Stokes, chief executive of the Australian Boarding Schools Association, said international education was one of the country's biggest exports, and China, Korea, Thailand and the Pacific Islands were the largest markets for boarding schools.
"Our overseas kids who did go home and now are not allowed to come back because the government won't let them in, that is an issue," Mr Stokes said.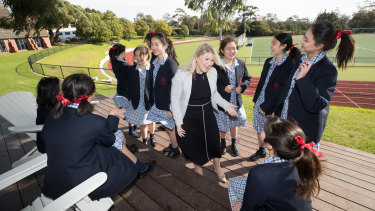 "The international pipeline is an interesting question. When will they open the borders for students to come back? The universities are struggling because they need their international kids; we need them in exactly the same way."
Mr Stokes said about two-thirds of the country's 23,500 boarders were from rural and regional Australia. As such, he was not aware of any boarding houses at risk of closing.
But he said many had stood down staff during school shutdowns across the country, as they did not qualify for the government's wage-replacement scheme.
Toorak College principal Kristy Kendall said the prep-12 school was "aware of the enormity of us being parents to 70 girls here".
"I've made a commitment to those families over many, many years and if they returned home and were unable to come back, that would have had devastating educational costs for those girls but also for our Australia and China relationships in education," she said.
China's ambassador to Australia Jingye Cheng recently suggested the Chinese public might boycott Australian products if the government continued to push for an inquiry into the origins of the coronavirus pandemic.
Mrs Kendall said the dispute was "going to be really debilitating for Australian schools" and border closures would cause long-term financial damage.
"We've got 15 new students due to start with us in term three, those students won't get in [to Australia] so they won't start," she said.
"And this has a knock-on effect not just for this year but for many years.
"We work really hard to maintain our relationships with our Asian neighbours in our boarding houses, but we are competing against Canada, we are competing against England.
"And if they make it more possible for students to return or enter, then we may see the Australian boarding market suffer consequences for many years to come."
Victorian chief health officer Brett Sutton said on Wednesday, the two-week-long COVID-19 testing blitz would inform his thinking on when the state's schools should reopen to all students.
Madeleine Heffernan edits The Age's Monday education page