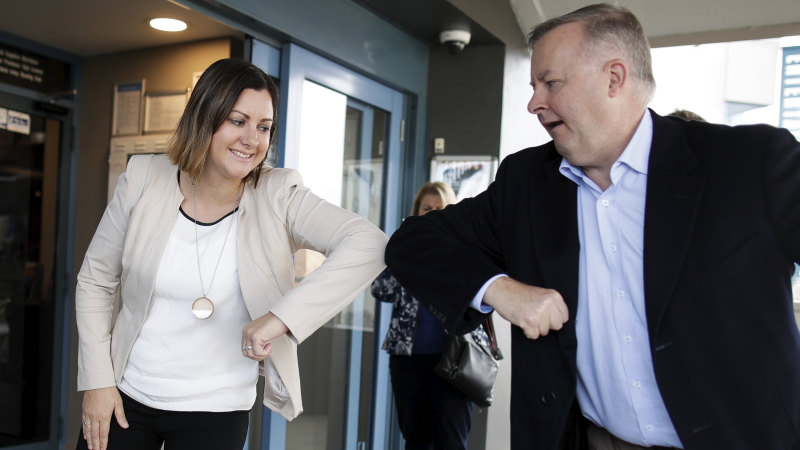 "But we'll be announcing positive policies. The policies that we have are ones that I have announced.
Loading
"If you look at the sort of policies we have, creating Jobs and Skills Australia, the policy we had of increasing Newstart, now called JobSeeker."
In a leaked caucus document, seen by The Age and The Sydney Morning Herald, Mr Albanese has set an ambitious timeline for Labor to overhaul its priorities and policy options for the COVID-19 recovery.
Mr Albanese's six-page memo to MPs reminds them it will be "important to acknowledge the constrained fiscal situation that will likely confront an incoming Labor government".
Labor's 2019 election platform included billions more dollars in funding for schools and hospitals through controversial revenue-raising measures.
Australian Education Union federal president Correna Haythorpe said on Thursday Mr Albanese and Labor must resist any push to use the COVID-19 pandemic as a justification for abandoning its policy position on education.
"Reports … that Labor is considering changing its policy on funding public education are deeply concerning," she said.
"Students, staff and parents at public schools, preschools and TAFE are relying on them to deliver a strong fiscal and progressive policy for public education in the lead up to the next federal election."
Ms McBain, the former Bega council mayor, said the byelection was "not an election that was forged in 2019".
"And as everybody is aware, the policies of the Labor Party are under review. And that's been loud and clear … they are under review, but they're not up for discussion in the 2020 byelection," she said.
Opposition education spokeswoman Tanya Plibersek said she was "realistic" about potential cuts to Labor's education policies.
"Labor will always want to invest in education, including education for the most disadvantaged children," she told Sky News Australia.
"But I'm realistic too … nothing will be the same for some time to come. We are going to need to look at ways of restarting our economy.
Rob Harris is the National Affairs Editor for The Sydney Morning Herald and The Age, based at Parliament House in Canberra