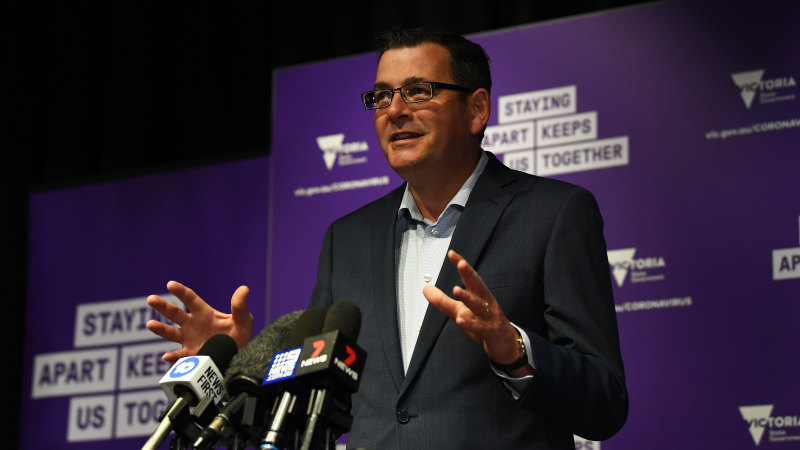 "That's confusing and it doesn't work. It hasn't work anywhere else in the world that's tried it, so why would you copy something that so many countries have proven for us doesn't work?"
However, Mr Andrews has refused to specify which restrictions might be eased.
"I've got no announcements to make about restrictions. I plan to make those announcements on Monday."
Victorian authorities are encouraged by the low rate of community transmission of COVID-19, despite the state recording 14 new cases on Thursday.
Thirteen of those 14 cases are linked to Cedar Meats, the Melbourne abattoir at the centre of an outbreak that has now spread to 62 cases.
Mr Andrews said the source of Thursday's other case was being investigated.
Victoria has 114 coronavirus cases currently active with eight people in hospital, including six in intensive care. Eighteen people have died in Victoria due to COVID-19.
It also emerged on Thursday that a worker at a McDonald's store in Fawkner, in Melbourne's north, has tested positive to COVID-19.
A McDonald's spokeswoman said the employee last worked on April 30 and there was "no suggestion the employee was exposed to COVID-19 in the restaurant". The restaurant was not closed at any point.
The state passed its two-week testing blitz goal of 100,000 tests on Thursday, with 106,000 Victorians tested for COVID-19 since last Monday – "an MCG's worth of testing in a week", the Premier said.
Results of about 70 per cent of the 106,000 tests were received as of Thursday, with the remainder expected on Friday or Saturday.
Mr Andrews added that even those showing mild symptoms should continue to present themselves for testing as part of Victorians' "amazing effort".
Loading
Of the 106,000 tests, the government says seven or eight cases found were due to community transmission, meaning authorities are unable to trace their infection to a known case or overseas traveller.
A total of 153 coronavirus cases – or about 10 per cent of Victoria's total 1454 cases to date – are due to community transmission.
Victorian Chief Health Officer Dr Brett Sutton said on Wednesday that the low community transmission rate was giving him optimism as he advises the government on how restrictions should be relaxed from Monday.
"The dynamics of that [community] transmission in Victoria, that's been trending very well … and that's the real feature that I'll look to in giving my advice to government on the easing of restrictions …" he said.
"I hope, along with the rest of the Victorian community, that there'll be some easing. I understand the frustration."
Michael is a reporter for The Age.