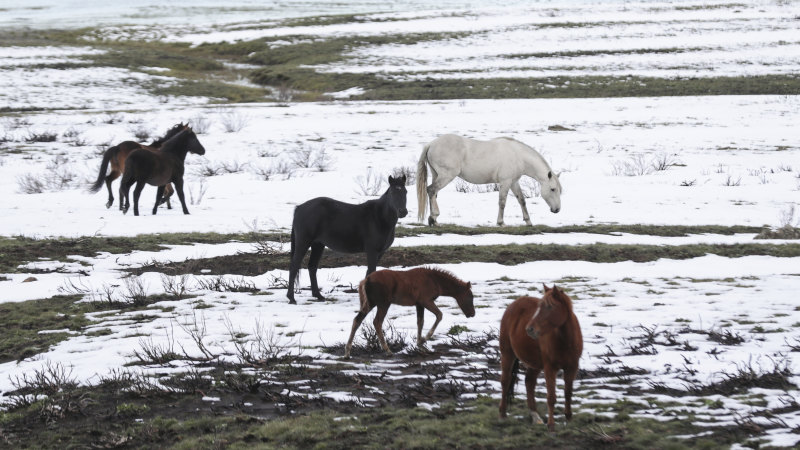 But in a judgment delivered on Friday morning, Justice Michael O'Bryan ruled he was not satisfied that prohibiting the removal of brumbies was appropriate, and their removal would not have a significant impact on the national heritage values of the Australian Alps. He also ordered the association to pay Parks Victoria's legal costs.
Loading
This decision allows Parks Victoria to begin a contentious culling program in the next fortnight.
The agency will deploy small teams of professional shooters overseen by veterinarians to cull horses in remote areas at night, using thermal imaging and silenced guns.
Previously, horses have been lured into yards and trapped, then captured or removed, although there has not been strong demand for re-homed brumbies. But the feral horse population has soared in the past five years – from approximately 9200 in 2014 to 25,300 in 2019 across the alps.
Australian Brumbies Alliance spokesperson Colleen O'Brien said she felt "shattered". "We feel we are losing irreplaceable heritage based on flawed science," she said.
Ms O'Brien also said being ordered to pay costs was a blow to the organisations that funded the court case privately. "It sends a message to other organisations like ours not to take on the government," she said.
Feral horses in NSW are protected from shooting under a law championed by the Deputy Premier and Nationals leader John Barilaro, who told Parliament that brumbies were "a quintessential part of life on the Monaro and I will always stand up for their preservation."
NSW Labor's environment spokeswoman, Kate Washington, said the court's decision confirmed that "the only impediment to the management of these pests in NSW is John Barilaro's signature bill."
In February, NSW Environment Minister, Matt Kean, announced about 4000 feral horses would be removed from Kosciuszko as part of an emergency response after large areas of alpine ecosystems were devastated by bushfires. Relocation is the priority, but the government has not ruled out that some brumbies might be killed.