Paris has proposed that the European Commission issues bonds to finance a recovery fund for the European Union worth 1-2 per cent of Gross National Income per year, or some €150-300 billion ($249.4-498.8 billion), in 2021-23, according to a French proposal seen by Reuters.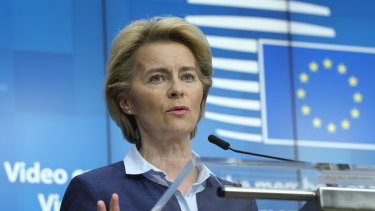 The proposal comes as the EU debates how to kickstart growth after the coronavirus slump. The bloc's executive Commission is due to make a formal proposal in the week starting May 18 of a new joint budget for all the 27 member states for 2021-27 and an accompanying recovery fund.
"The size should be at least 1 per cent to 2 per cent of EU GNI per year over the next three years, which would provide the EU budget a top-up of €150 billion to €300 billion each year between 2021 and 2023," the French discussion document read.
"Loans to member states could help closing the gap, but need to remain a top-up to grants. To ensure maximum added value, such loans should have a grace period, very long maturity and low interest rate … It is also essential that this fund be set-up as soon as possible, possibly before the entry into force of the next MFF."
Australians are being warned to expect new coronavirus outbreaks as the nation emerges from sweeping shutdowns in a three-stage plan to restore 850,000 jobs by July.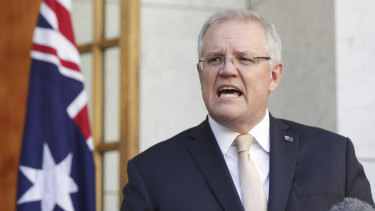 Prime Minister Scott Morrison acknowledged the danger of new cases but declared they could not hold back the economic recovery because controls were in place to isolate and quarantine new cases.
Some state premiers moved swiftly to reopen churches, cafes, restaurants and schools after national cabinet agreed to the plan on Friday, but the people of NSW and Victoria must wait to learn how the measures will be applied in their states.
Victorian premier Daniel Andrews signalled a move within days to resume some teaching in classrooms, with the new framework putting schools in the first stage of the restart plan.
You can read David Crowe's full story here.
Ireland's unemployment rate rose to 28.2 per cent at the end of April including those receiving emergency coronavirus jobless benefit, the highest on record and up from just 4.8 per cent before the crisis two months ago, the state's statistics office said on Friday.
The new COVID-19 Adjusted Unemployment rate increased from 15.5 per cent in March after the number of people claiming the higher emergency payment more than doubled to 602,107, on top of the 216,900 on regular jobless benefits.
Excluding the emergency coronavirus payment, the unemployment rate stood at 5.4 per cent.
The adjusted unemployment rate does not include 427,400 more workers on a wage subsidy scheme for impacted companies, where the state agreed in March to pay 70 per cent of wages up to a maximum of €410 ($681) a week for an initial 12-week period.
Australian pub-goers could see their favourite watering holes stay shut despite a plan to ease coronavirus restrictions across the country.
The Australian Hotels Association says the road map to recovery is inconsistent and could force some hotels and pubs shut permanently.
"Hotels have been left blindsided,' chief executive Stephen Ferguson said on Friday.
"They basically will not be able to re-open their businesses until stage three of the recovery process."
Mr Ferguson said the plan failed to account for venues with large floor space and most would be forced to remain closed.
"We are told only 10 people can sit and have a meal in a pub restaurant area even if that area could safely socially distance 50 or 100,' he said
"Why can only 10 people be allowed in a dining area of a huge venue that could safely socially distance 120?"
People are cramming into supermarkets and work side-by-side on building sites, he said.
"Where is the consistency?"
He warned that many operators were already struggling with mounting debts after being closed for more than a month and the recovery plan could force some to close their doors permanently.
"Hotels have done the right thing, put the health of staff and patrons first the moment this pandemic hit – and we will continue to do so – but common sense needs to prevail here too," he said.
AAP
On this week's episode of Good Weekend Talks, we revisit Amanda Hooten's profile of Jacinda Ardern, the young, charismatic world leader just after she was elected New Zealand's Prime Minister.
Amanda is also joined in conversation by Good Weekend editor Katrina Strickland, and political editor Peter Hartcher for a discussion on Arden's handling of the COVID-19 crisis, Christchurch massacre and Christchurch earthquake, and how she compares to other world leaders.
This is one of many podcasts available from The Sydney Morning Herald and The Age. You can listen to our daily coronavirus podcasts here.
It's Friday night – and normally you'd expect a lot fewer lights on around Sydney's Eastern Suburbs, with people flocking to the city or to local watering holes.
Instead, as self-isolation rules remain, photographer Janie Barrett has captured these images in which the moon is just one of many bright lights on the skyline.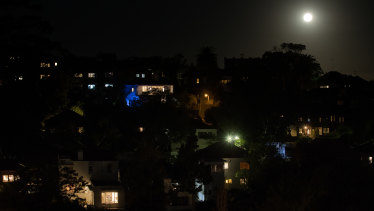 AFL chief Gillon McLachlan told coaches on Thursday that players breaching COVID-19 protocols faced being suspended for the entire 2020 season.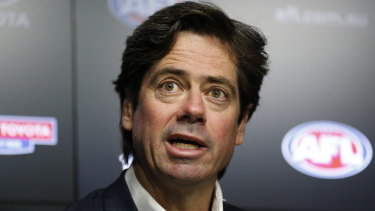 The warning, which was communicated in a video hook-up to one-third of the senior coaches and then passed on to the other 12, came just hours before McLachlan learned that 16 Adelaide footballers trained as a group at a golf course in the Barossa Valley.
McLachlan also raised the prospect of season-ending suspensions with the 18 club chiefs on Tuesday and received significant support. The prospect of tough new penalties for breaking social distancing has also been put to the players' union.
As McLachlan and his team weighed up potential sanctions for both players and club, Adelaide CEO Andrew Fagan said the Crows should not be judged in light of previous misdemeanours and notably the damaging Collective Minds pre-season camp.
Read Caroline's full story here. 
The Age's state political editor Noel Towell has written an analysis on Victorian Chief Health Officer Brett Sutton's "hardline" approach to COVID-19.
He writes that Professor Sutton isn't sold on any of the treatments that have so far been floated for the killer virus and believes that this pandemic is over only when a vaccine is found and produced in billions of doses.
Until there's a vaccine, and there might not ever be one, our only real defence against this new mass killer is the ability to control population behaviour.
The only way to do that effectively, unless you're North Korea, is with a clear simple message: Stay At Home.
Read his full analysis here. 
A Port Authority harbourmaster said he thought NSW Health's low-risk classification for the Ruby Princess meant it posed minimal risk, despite 15 passengers aboard awaiting results for COVID-19 swabs.
Cameron Butchart, who was the duty harbourmaster the night before the cruise ship docked, told the special commission inquiry that he was emailed NSW Port Authority's policy that stipulated if there were COVID-19 tests onboard a cruise ship and results were pending, the boat was to be treated as if it was positive.
"I didn't understand the content of the email," he said.
Mr Butchart was also informed NSW Health had assessed the Ruby Princess as low-risk.
Commissioner for the inquiry Bret Walker SC asked Mr Butchart whether the low-risk assessment introduced an "unfortunate element" in his decision making.
Mr Butchart said it did.
Read the full story here. 
Thanks to everyone who has shared their thoughts on Victoria's current coronavirus restrictions.
There have been mixed responses, with many readers saying they believe Premier Daniel Andrews should ease his hardline approach, while others pleaded for restrictions to be maintained.
One reader called the Victorian Premier "absolutely spot on".
"I think we should keep these restrictions for a few more weeks. Singapore is a good example of how things can go wrong. Schools should open in term three, not before. It's not the kids we worry about, it's the grandparents who are expected to pick [up] and drop [off] the kids."
Another said opening gyms, restaurants and borders would be premature "before we know how much community transmission will occur at the easing of such restrictions in such a short time frame".
But others thought the Premier was "overdoing it".
"I agree the reopening must be carefully managed but the numbers are so low, the restrictions and lockdown doesn't justify the economic impact," said Dennis.
Another reader outlined the "horrendous impact" the lockdown was having on the lives of vulnerable community members.
"From people suffering poor mental health, victims of family violence, being able to pay the bills and for some even having food on the table," the anonymous reader said.
"So many of my friends have been pushed over the edge, and are depressed and suicidal."
James said schools must open: "The damage this is doing to the education of my children, and their mental health and well-being is utterly devastating to watch."
You can read more about the current restrictions here.