But commissioner Stevens expects the Crows to be warned, rather than fined.
''My understanding is it is what you might describe as an honest mistake,'' Stevens told reporters.
''It is being dealt with as providing advice and education, and this is no different to what we have done to so many other people who have not necessarily complied with their obligations for quarantining.
''At this point, my advice is they are being dealt with in an educative way rather than a punitive way.''
Two staff members were present at the Novotel Barossa Valley Resort when 16 Adelaide Crows players allegedly breached the quarantine laws and AFL training protocols.
The club has confirmed to The Age that Hart, a 300-game champion and current assistant coach, and the club's dietician were sent by the club to be with the players.
Hart was overseeing the players' fitness programs, with the club believing that they were able to train in groups of two.
The club dietician was working closely with the Novotel's chefs to help them prepare food for the players.
Both were told about the strict social distancing measures, according to the club.
The club said in a statement late on Thursday that they had been advised by both the AFL and by SA Police that they were able to travel to wine country to isolate in the hotel, which was closed off to the general public.
But when asked by The Age if police specifically allowed Crows players to exit their hotel rooms – which goes against strict quarantine policies – they avoided the question. "SA Police has received information from the Adelaide Football Club about a potential breach of quarantine guidelines during a training session. SAPOL will examine the information to determine if a breach has occurred and if penalties apply," SA Police told The Age.
Adelaide have since apologised to the AFL for breaching league protocols when they trained in groups of eight and didn't adhere to social distancing measures during a training session in the Barossa Valley while in quarantine.
The Crows' CEO Andrew Fagan rang AFL boss Gillon McLachlan on Thursday to acknowledge the club made a serious error in not meeting the expectations of both the league and the community during the session.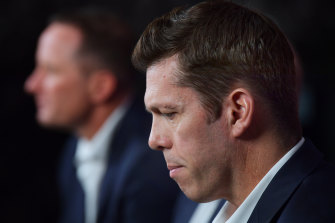 "This is our error," Fagan told SEN.
"There is no walking away from it. We made a mistake and we accept that."
The AFL is furious with the club as they have repeatedly emphasised how it important it was to their negotiations with government for all players and club officials to adhere to the protocols in order to demonstrate they can be trusted to adhere to quarantine measures if travelling interstate as a club.
They are expected to deliver a hefty penalty to the club with deliberations underway.
Fagan admitted the incident could jeopardise the progress of AFL negotiations with government.
"It won't help," Fagan said.
Loading
On this occasion, the 16 players, with assistant coach Hart, began training in pairs but then moved into drills involving two groups of eight, breaking AFL rules and social distancing measures in place to stop the spread of COVID-19.
Fagan said he understood that and poor communication among those staying at the quarantine camp had led to the breach.
"We clearly got it wrong and we expect penalties," Fagan said.
"As an industry we need to make it clear to the government and the community more broadly that the expectation around distancing and adherence to the medical protocols are really important."
Currently Western Australia and South Australia are refusing to relax border restrictions to allow AFL clubs to enter the state to play games without having to spend 14 days in quarantine under a "short-stay-play" model.
Queensland has granted approval but has made it clear adhering to protocols was critical to its decision otherwise that approval could be revoked.
Adelaide's head of football Adam Kelly said on Friday that the club had not set out to break rules.
''No one is out there deliberately trying to flaunt rules,'' Kelly told SEN SA. ''Quite simply, we have got it wrong and we own our mistake.
''We certainly didn't set out deliberately to break any rules.
''The AFL have been at pains to have the clubs and players and staff understand that during these times, we're training under restriction and we train in pairs only.
''They [the AFL] are very disappointed, as you would expect that they would be,'' Kelly said.
''The AFL have done a wonderful job in working with all state and territory governments … they have been at pains to have us understand our obligations, especially around the training protocols.
''This was a mistake that was made and should certainly not be seen as a representation of the broader industry.''
Sam McClure is a sport reporter for The Age and winner of 'best news reporter' at the AFL Media Association awards.
Jake Niall is a Walkley award-winning sports journalist and chief AFL writer for The Age.
Peter Ryan is a sports reporter with The Age covering AFL, horse racing and other sports.