Premier Annastacia Palaszczuk asked the Legal Affairs and Community Safety Committee to investigate why results were so slow to be posted online on the evening of the elections.
A public meeting, via teleconference, will subsequently be held on May 15 from 10am to 2pm.
On election night, results were extremely slow to load to the ECQ's website, frustrating candidates, mayors and would-be mayors, the general community and journalists covering the elections.
Ms Palaszczuk expressed her disappointment the next day, telling reporters running the council elections was the ECQ's "single job".
She asked Attorney-General Yvette D'Ath to hold an inquiry into the poor outcome, because an independent inquiry into the ECQ had previously been investigated in 2017.
That inquiry was immediately supported by Brisbane lord mayor Adrian Schrinner, who said Brisbane ratepayers contributed $7 million to the ECQ for the 2020 council election.
Both Ms Palaszczuk and Cr Schrinner described the Saturday vote count as a disappointing end to the COVID-19 coronavirus interrupted elections.
The public meeting at Parliament House will begin hearing evidence from midday via teleconference and will be available for Parliament TV.
The ECQ has not explained what the technical issue was, or how it was triggered.
"On election night, there was a delay in publication of results caused by a technical issue with feeding data from polling booths to the ECQ's results website," an ECQ spokeswoman said.
"This was quickly rectified and all votes counted on election night were published that night.
"The counting process continued progressively under the supervision of returning officers, with results progressively posted following a verification process."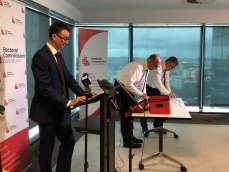 The committee will accept written submissions until midday, Monday 11 May.
A public hearing will be heard on May 15. The committee hands its report to Parliament by June 2. The terms of reference can be read here.
Tony Moore is a senior reporter at the Brisbane Times