MICHAEL DORMAN, ACTOR
What I'm watching: I started watching Apple TV. We found this show called Home; it's basically people that have very creative ideas with their space. The first one we watched is about sustainability; I found that very insightful in terms of what is possible. And we've been watching Beat Bobby Flay. He's a chef and whoever wins gets to cook their favourite dish and he has to cook whatever they say – it's fun.
What I'm listening to: I did this TV show called Patriot a while ago that explored the country-folk scene. That's become my staple for when I'm trying to relax. [A favourite is] a track by Mandolin Orange called Wildfire; the frontman and his wife play very easy country folk. There's another band in a similar vein called the Avett Brothers. They have a track called I Wish I Was, a play on falling in love. The lyrics are poetic but fun. And I love Townes Van Zandt.
Michael Dorman stars in The Secret She Keeps on 10 on Wednesdays at 8.45pm.
Premier League clubs are preparing to square up in Monday's meeting over the threats, bullying and backbiting provoked by Project Restart.
The Premier League itself could come under fire from those who believe a lack of leadership contributed to the fallout and are frustrated that meetings with players and managers were not held this week.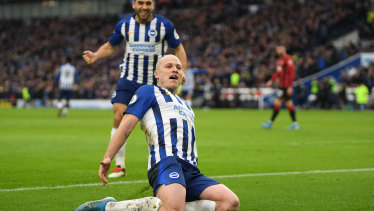 While clubs will not vote on the proposal to restart the season at the latest shareholders' meeting, the gloves are likely to come off regarding the issues and controversy surrounding it.
The bottom six have found themselves cast as a group of saboteurs, accused of trying to use the coronavirus crisis to have relegation from the Premier League scrapped.
Paul Barber, the Brighton chief executive, has insisted that it is not only the bottom six opposed to the plan to play out the season at neutral venues.
He and Christian Purslow, the Aston Villa chief executive, have insisted they have not raised the subject of voiding relegation at shareholders' meetings. While Barber, Purslow and Crystal Palace chairman Steve Parish, who supports the restart plan, have gone public with their views, others have kept the positions of their clubs private.
The Telegraph, London
The best football team won't be winning the NRL premiership in 2020.
The most mentally tough team will. Because this won't be anything like a normal season – the challenges, particularly of the mind, will be immense.
We got a small glimpse in round two. No matter what anyone says, top-flight rugby league in empty stadiums is not the same.
In that round, the Knights' 42-24 belting of the Wests Tigers was plain weird by NRL standards. The Panthers-Dragons match wasn't far behind – it was close but high-scoring.
On the flipside, Manly's one-point win over the Roosters was as hard-fought as ever, as was the Broncos' 22-18 win over the Rabbitohs.
What I'm getting at is, some games will be kind of normal, but we will see far more blow-outs than we would normally expect as concentration wanes. Particularly as the season wears on.
I also think lower-ranked clubs will be gapped by better teams. When their seasons are gone, what will motivate the Titans, the Bulldogs and the Warriors?
St George Illawarra, too, for that matter. How can they get revved up if they quickly fall out of it? The coach is under pressure, star forward Tyson Frizell is leaving. They can't do it for the fans when they can't see them. They might tell themselves they're doing it for them, but when things are going bad in an empty stadium, where will the resilience come from?
Which is why mental toughness will reign this year. Week in, week out. In games and at training. Who's up for it?
Mother's Day is likely to be a strange one this year. Coronavirus restrictions mean many Melburnians won't be with their loved ones tomorrow, perhaps opting for a virtual lunch over webcam instead.
Extended family members in the same room will probably, and very rightfully, be maintaining social distancing.
It will be a particularly odd day for restaurants, too – Mother's Day is traditionally the busiest service of the year for many dining venues.
While some restaurants remain temporarily shuttered, others have ramped up their takeaway and delivery options to serve more customers than ever before.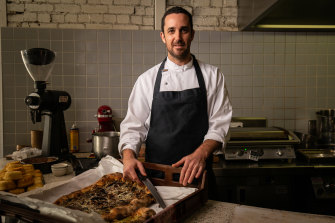 At Marion, a Fitzroy wine bar that did a perfect 180 and landed back as a shop and bakery, they've been preparing for weeks.
"It's one of the biggest days for us," says executive chef Ben Pollard, who oversees the running of every kitchen in the McConnell Group. That includes Cumulus Inc, Supernormal Canteen, The Builders Arms, Marion, Meatsmith and Cutler and Co.
He says the experience of working solidly in a kitchen, preparing meals, without the adrenaline of service attached to it has been really strange.
"It's still very satisfying," he says. "I've had a lot of time at home which has been quite nice – it's been good to see my kids grow up."
The AFL is working feverishly on improving its COVID-19 protocols in an attempt to satisfy the West Australian government and police that it would be safe to let Fremantle and West Coast to fly in and out of the state to play games, as the league moves towards announcing a return-to-play model.
The league's desire to exhaust every avenue in discussions with governments before committing to a fixture is also likely to see the AFL delay the announcement of where the early rounds will be played until at least this time next week.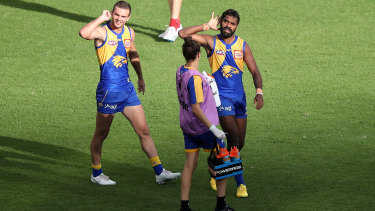 However, the AFL is determined to deliver a return-to-play date and a set of protocols to clubs, with the AFL Commission to meet on Monday to thrash out the plans.
Even when the fixture is delivered it is likely – unless circumstances change quickly next week – that only the first phase will be made available giving the AFL flexibility if restrictions ease later in the year.
The ongoing conversation between the AFL, the two Western Australian clubs and the state government have focused on what protocols they would need to have in place to satisfy the authorities that a fly-in, fly-out model would pose no threat to the community.
Legendary Australian actor John Wood has long said the closest thing to an actor "is the black dog of depression".
For the vast majority of performers, the work is a passion, but scarce and poorly paid.
Life is hand-to-mouth, even in the good times.
And these are most certainly not good times.
Pandemic restrictions have ground concert, film, television and theatre production to a halt.
Furthermore, most performers are ineligible for the $1500 per fortnight Jobkeeper payments. Even Jobseeker, the dole, can be difficult to access for some in the arts sector.
The Victorian Actors' Benevolent Trust would normally raise money for performers in dire need through 'bucket rattles' at Melbourne's biggest stage performances, mostly through the Melbourne Theatre Company.
Not only is the curtain drawn for the foreseeable future, the need has only increased.
The woman credited with organising the first modern Mother's Day in 1908 was eventually so horrified by what it had become that she spent the rest of her life fighting for it to be erased from the calendar.
For Anna Jarvis, the day was meant to be an opportunity to honour the sacrifices women made for their children and society. She championed the commemoration in memory of her own mother, a social activist who had taught women how to better care for their children to reduce the chances of them dying at a time plagued by epidemics.
But it did not take long for florists, confectioners and card companies to jump onboard. For Jarvis, the increasing commercialisation of the day was eroding its meaning in a way she found deeply upsetting and she fought with everything she had to stop it, even petitioning to have the day abolished altogether.
So it's fitting in a way that this year, in the face of another pandemic, we are forced to return to the humble origins of the day and mark it with sincerity, but less fanfare. A card or phone call, a cuddle in bed, but none of the grand family reunions of years past.
This will come as a relief to those who have always found Mother's Day difficult. For many who have lost their mothers or not had their dreams of motherhood realised, the sight each year of restaurants and cafes spilling over with women and their families is an almost insensitive reminder of all they have lost.
Others argue we shouldn't need a date on the calendar to remind us to honour our mothers – and they are right – but if there was ever a year when mothers needed a collective morale boost, it's this one.
Players' union boss Clint Newton has moved to distance those resisting the flu shot from the anti-vaxxer movement amid hopes the Queensland government will allow all NRL players to participate when the competition restarts on May 28.
Gold Coast duo Bryce Cartwright and Brian Kelly – the only first-grade players in their state not to get the jab – have been ordered to stay away from training until the Queensland government reviews the NRL's revised vaccination program. When the NRL initially sought government approval to restart the competition, it said vaccination would be mandatory in its draft pitch.
While more than 97 per cent of players have complied, the Queensland government is yet to make a definitive decision on whether to allow those who have availed themselves of a subsequent waiver to participate.
Only a handful of the NRL's 500 players have opted not to take the flu shot, many of them opting against it because they have previously had an adverse reaction from the jab. Some of them, such as Manly's Martin Taupau and Titan Nathan Peats, eventually relented despite previous vaccination issues.
Rugby League Players Association CEO Clint Newton said those who didn't immediately roll up their sleeves shouldn't be automatically categorised as anti-vaxxers.
Indonesia has recorded another record single-day rise in coronavirus cases, reporting 533 new infections on Saturday.
The previous record of 484 cases was set only last Tuesday and the country is averaging at least 300 new cases per day in recent weeks. It also has the highest death toll in the region.
The big recent single day rises come despite national government health officials recently suggesting that the infection curve was flattening and that it may be possible for normal life to to resume in June or July.
That timeline now looks like to be slipping back to August, at least.
The country now has 13,645 people who have been infected. And while testing rates have improved after a dismally slow start, the total of 150,493 PCR tests conducted on 108,699 people is still well behind its neighbours, including Singapore, Malaysia, Vietnam, the Philippines and Australia.
The death toll rose by 16 dead to 959 people on Saturday.
Kevin Muscat's departure from Melbourne Victory a year ago might have come as a shock to many.
But, as the former Socceroo captain and Victory legend admits, never had he been more certain that the time was right.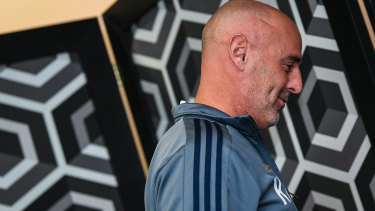 When he left on May 20 last year, bringing down the curtain on 15 years of success as a player and coach, he had nothing lined up; instead he was determined to consider all options, preferably in Europe where he felt he could take his coaching skills to another level.
It took a while, but seven months later he was back in the game having secured the top job at Belgian top division club St Truiden, a team now owned by Japanese electronics and internet company DMM.
Well, almost: his coaching qualifications from the Asian Football Confederation were not recognised at quite the same level in Europe, so initially he took on a role as coaching advisor with Slovenian Milos Kostic given the title of manager.