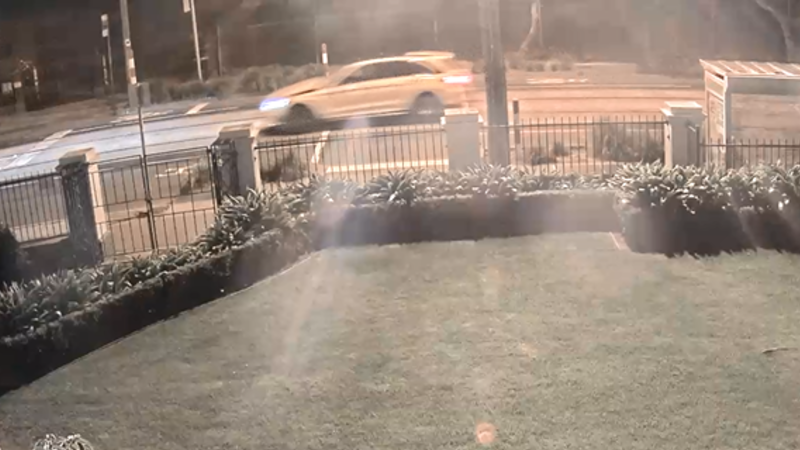 "I had assumed it was the crunching of the bike as opposed to the crunching of my body."
Chantelle was thrown onto the bonnet of the car and then fell onto the road. Thankfully, a passerby went to her aid.
"I remember looking up from the ground because I wasn't able to move, and saw the car stop and do a U-turn and then drive straight back past me," Chantelle said.
The Mercedes was found burnt out in Altona a few hours later, and police inquiries revealed it was stolen from a Malvern home around a month earlier on February 16.
Chantelle, a triathlete, was taken to hospital and has been in rehabilitation since. She hopes to be able to get back out on her bike in another six weeks when she's expected to recover.
"I'm just so lucky the way I landed. I was very lucky that I landed on my butt, I didn't hit my head, I didn't hit a pole. The car could have continued and run straight over the top of me. So I'm feeling very grateful," she said on Saturday.
On Saturday, police released CCTV of the incident in the hopes someone will recognise the vehicle and come forward.
The footage brought back memories for Chantelle, who hadn't seen it until this week.
"I didn't realise that I'd actually hit the bonnet until I've seen some footage … It was actually really difficult to watch the footage, to bring back the memories of the trauma.
"But also, it brought back the memories and the feelings I had at the time of the accident, which was, 'how the hell can someone actually leave when you could be dead on the side of the road?'
"There's absolutely no doubt in my mind that they knew what had happened."
Sergeant Lachlan Dunlop said it was a despicable act to leave the scene of a crash.
"I'm not sure where the conscience is of someone who can do that to another human," Sergeant Dunlop said.
Anyone with dashcam footage should contact Crime Stoppers on 1800 333 000 or submit an anonymous report online at www.crimestoppersvic.com.au.
Rachel is a breaking news reporter for The Age.