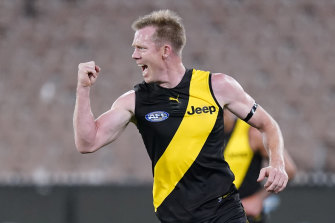 But it is clear that the Andrews government's decision on contact training is a major step on the way to a return to play, given the stated AFL position that clubs will need about three weeks of full training before they can resume games.
The AFL needs to get all states allowing full training, then set a date for return to play before completing the revamped fixture, in which Collingwood v Melbourne is among the candidates for the first match back. A Thurday night return game – June 11 or June 18 – is a good chance, a source said.
An AFL spokesman clarified that the Victorian government's position would allow clubs to train with tackling and other forms of body contact, but that it was league's position that all 18 clubs had to have the same rules, which meant the 10 Victorian clubs would have to wait.
"The only thing holding Victorian clubs back is us," said the AFL spokesman, who said the AFL was thankful to the Victorian government "for giving approval for full-contact training".
He said the AFL would continue to finalise arrangements for a return to play with other governments before allowing full-contact training across the competition.
Due to the need for uniform rules across the 18 clubs, the AFL clubs will have to train in pairs – the current rules – until the league declares otherwise. If WA and SA allowed the same rules as Victoria, then the AFL would be in a position to start the season in three weeks from that time.
Players and clubs would still have to follow AFL protocols until there was a change. Even when they are allowed to train in full, the players and staff will be subject to strict protocols around limiting contact with the outside world, with clubs locked down, players tested regularly and their travel to and from grounds controlled.
The AFL, thus, has not yet allowed clubs and players to move to the government's "level B" for sport, in which people can train in groups of 10, while maintaining some social distancing. Level C allows full contact and is the last step before the games return.
Clubs had not necessarily expected full-contact training to be permitted by the Victorian government at Monday's announcement.
Victorian Premier Daniel Andrews announced on Monday that people could practise sport in groups of up to 10 and that the AFL and NRL could train, without outlining specifics on what that entailed for those competitions.
Andrews said the government had "agreed to a set of arrangements to allow training for AFL, for rugby league, other professional sports, to resume from just before midnight tomorrow night [Tuesday]".
The AFL Commission met on Monday to grapple with a range of issues, including the return to play, which is the AFL's priority, ahead of plans for the competition later this year and next year.
Loading
Andrews said each sport must put in place its own plans and must be self-contained. He said use of an indoor gym space must be exclusively for professional sport and controlled by the team using it, which would enable stronger contact tracing in the event of a positive test.
"So training resuming paves the way for footy to be back and I think we all want that provided it is safe, appropriate and can be done in a cautious way," Andrews said.
"I'm confident it can be … these are small steps, significant steps, though."
Jake Niall is a Walkley award-winning sports journalist and chief AFL writer for The Age.