Ampol was a historic Australian fuel business, founded in 1936 and originally known as the Australian Motorists Petrol Company. It was acquired by concrete seller Pioneer in 1988 before merging with Caltex Australia in 1995, who retains the rights to the name.
Loading
At the time, Caltex said the total cost of rebranding its 2000-odd petrol stations would be $165 million, but Mr Halliday said the company had identified a number of efficiencies which will see the total cost come in lower.
These savings will likely be in lower procurement costs due to a weaker market, along with synergies with existing network refresh plans, he said.
"We've got a much better platform now to execute this program more cheaply," he said. "There's an opportunity now to roll it out in a more efficient way than we could have last year.
The cheaper rebrand, along with the $18 million to $20 million Caltex is slated to save in licensing fees annually, was welcomed by Mr Halliday as the company recovers from a tumultuous six months.
The business has been suffering from low fuel volumes and weak retail sales during the coronavirus crisis, which Mr Halliday said he expects will improve in the near term as eased restrictions prompt more Australians to go out driving.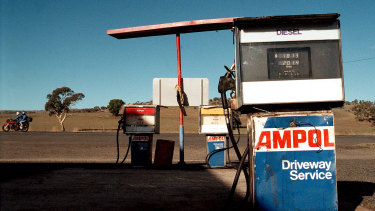 However, Caltex will likely face a "prolonged challenge" in its refining business, which is wrestling with a global oversupply of oil. Last month, the company temporarily shut down its Brisbane refinery.
The coronavirus also recently nixed an $8.8 billion takeover offer from Canadian suitor Alimentation Couche-Tard, however, Mr Halliday said he was still hopeful of a fresh offer from the multinational convenience store operator.
"We'll just continue to focus on the things we need to do and if Couche-Tard chooses to come back with a revised proposal that's in the interest of our shareholders, then the board will consider it," he said.
Meanwhile, Caltex will push ahead with a mooted $1.1 billion sale of 250 of its petrol site locations, with Mr Halliday saying it would proceed with either an IPO or trade sale when market conditions suit.
Dominic Powell writes about the retail industry for the Sydney Morning Herald and The Age.