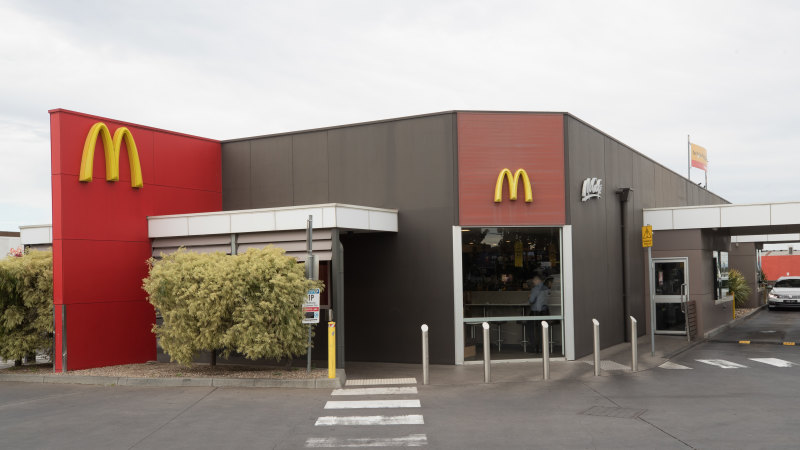 Fawkner McDonald's has emerged as Victoria's latest COVID-19 cluster, with one previously reported positive case also now attributed to the restaurant, taking the total from three on Tuesday to six on Wednesday.
The restaurant reopened again on Wednesday after undergoing a deep clean over the weekend.
A McDonald's spokeswoman said 92 employees from Fawkner McDonald's had been tested for COVID-19 and the restaurant was operating with staff from other outlets while regular workers waited for results.
"We are checking in with each of the affected employees daily and confirm they are self-isolating at home with mild to no symptoms," the spokeswoman said.
"We continue to work collaboratively with the Department of Health … While the majority of our employees' test results have so far returned negative, we cannot, of course, guarantee there may not be another positive result in the coming days."
A Health Department spokesman said the risk of any visitors to the McDonald's contracting the virus was "very low" but encouraged any customers to get tested if they experienced symptoms.
"There is no evidence COVID-19 can be transmitted to people through food or packaging," the spokesman said.
While McDonald's in the United Kingdom and Ireland have been closed since late March, Australian restaurants have been operating largely as usual, including selling essentials such as bread and milk.
Touch-screen ordering machines are still operating at restaurants, a potential breeding ground for coronavirus germs.
Dr Hannah Sassi, a virology expert from the University of Sydney, said research showed COVID-19 lived on hard surfaces, including touch screens, for 24 to 72 hours.
Loading
She said touch screens should ideally be sanitised after every use, especially coming into flu season.
"I'm not sure touch screens are any more dangerous than any other high-tough public surfaces that remain in use. But if people are going to remain using them, they should be properly sanitised in order to minimise the risk of passing infections along," she said.
"If it's feasible for an establishment to safely and properly function without the use of touch screens, then that might be a good option for them to protect their workers and customers."
A McDonald's spokeswoman said an "anti-microbial film with advisory stickers" had been added to each ordering machine.
The first case linked to Fawkner McDonald's, an employee, was diagnosed last Thursday. The worker told the Health Department's contact tracers they had not attended work while infectious and McDonald's said they had last worked on April 30.
The Health Department announced on Friday that a second employee had tested positive "after working one shift" at the restaurant.
Fawkner McDonald's subsequently decided to close on Friday to undergo deep cleaning.
A third employee tested positive on Tuesday and the 92 employees were tested as a precaution.
One Fawkner McDonald's customer on Wednesday said she wasn't aware of the outbreak before ordering.
"I feel as if I need to go home and clean up, that's what I feel like," she told Nine News.
Loading
McDonald's has introduced a "contactless" handover, where a crew member places the food bag on the counter shelf for customers to pick up. A spokeswoman said all McDonald's employees were instructed to adhere to social distancing and wear gloves, with sanitiser available in stores.
Victoria's Health Department confirmed on Wednesday that a worker at a poultry-processing facility had also tested positive.
It said the worker was an isolated case and contract tracing and testing was under way.
The facility, which has not been named by the department, is being disinfected daily and deep-cleaned weekly. It has not been shut down.
The company is not an abattoir and does not handle live animals. Rather, it receives carcasses and cuts them into poultry products for the retail market.
Loading
Mercy Health, which operates hospitals and aged-care facilities across Victoria, confirmed a back-of-house staff member from Mercy Hospital for Women tested positive on May 5.
A spokesman said none of the worker's colleagues had shown COVID-19 symptoms since isolating and all services at the hospital were operating as usual.
Of Victoria's seven new cases on Wednesday, two were returned travellers in hotel quarantine, three were identified through testing by their doctor and two were linked to Fawkner McDonald's.
Michael is a reporter for The Age.
Paul is a reporter for The Age.