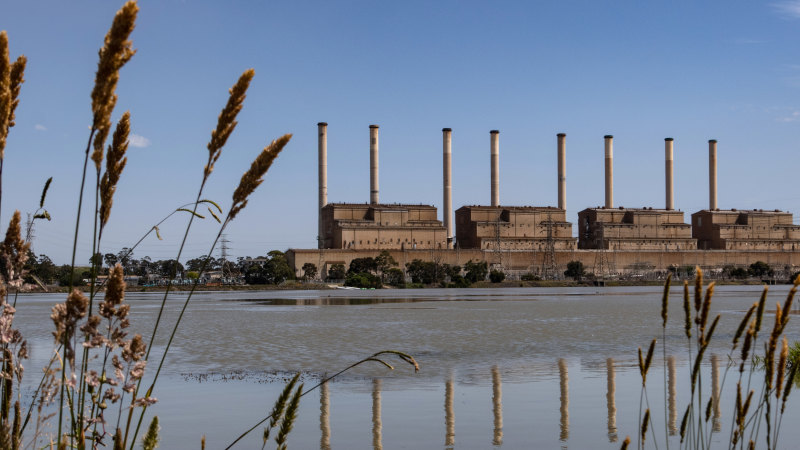 "The toxic legacy of the Hazelwood mine and power station is never-ending. The Latrobe Valley community deserves to have these sites comprehensively rehabilitated to prevent problems … with contamination in the future," Ms Anton said.
Before it closed, Hazelwood had the highest emissions intensity of any coal power station in Australia, and possibly in the developed world.
"The toxic legacy of the Hazelwood mine and power station is never-ending."

Tracey Anton
An analysis of an environmental audit report of the Hazelwood ash dumps found possible breaches of the law at the site of the retired coal mine.
These include inadequate lining and capping of coal ash dumps, existing groundwater contamination, and a serious threat of contamination to nearby Bennetts Creek, according to an analysis prepared for environmental lawyers Earthjustice.
Loading
Environmental Justice Australia made the legal complaint on behalf of Friends of Latrobe Water, with lawyer Bronya Lipski saying the public shouldn't have to rely on the independent assessment of environmental audits to bring these issues to light.
"This report and its findings point to potential breaches, and certainly serious flaws, in the management of toxic coal ash waste," Ms Lispki said.
"Coal ash waste is full of toxic chemicals that can seriously harm human health. We are calling on the EPA to urgently investigate these potential breaches."
In 2015, a rupture in an ash disposal pipeline at Yallourn power station led to 8.6 megalitres of ash sludge being dumped into the Morwell River. EPA Victoria fined Yallourn's owner, EnergyAustralia, just $7584 for breaches of its licence conditions.
Latrobe Valley power stations, including Hazelwood, are required in their licences to engage auditors to conduct and submit environmental audits to the EPA that assess the risk of harm arising from landfill operations.
Loading
Since 2019 the EPA has issued one pollution abatement notice and four clean-up notices to Hazelwood Power Partners, which collectively owns and operates the Hazelwood power station site and is responsible for the decommissioning of the site.
A spokesperson for Engie, the parent company of Hazelwood Power Partners, said it continues to manage the ash landfills with the support of specialised external environmental consultants and auditors, and routinely reports to the EPA on their status, management and remediation.
Miki Perkins is a senior journalist and Environment Reporter at The Age.
Most Viewed in Environment
Loading