Business initially declined after social-distancing lockdowns began, Ms Macqueen said, as offices required less regular cleaning with staff at home.
That turned around in recent weeks, however, with the company's teams now working around the clock to keep up with demand for COVID-19 cleaning as the economy reopens.
"What clients are looking for is that extra measure of sanitising," she said.
"The high-touch point areas, having them sanitised has become a huge part of attracting people back."
When dealing with a place that has had a coronavirus outbreak, cleaners will put on hazmat suits and wear goggles, masks and boots.
After a full clean, an anti-viral disinfectant is then applied via spray or a "fogger" that pumps mist in the air. It is left for 10 minutes then wiped off.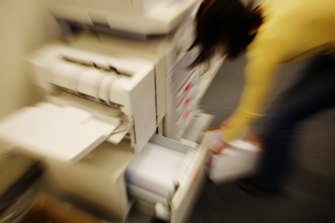 "I'm talking about pens on desks, every single thing," Ms Macqueen said.
The urgency to perform such a deep clean is clear when the stakes are so high.
One global brand with a confirmed case called at 2am to have the area decontaminated, Ms Macqueen said.
"They wanted it done that fast so that nobody knew about it," she said.
Before the pandemic, office cleaning typically centred around vacuuming, mopping floors and scrubbing toilets.
Now, companies hope it will be what helps give people confidence that their workplace is safe.
"Many companies didn't want to see the cleaner, now they do. They want them in the high-vis vest making sure the kitchen is sanitised," she said.
Sam Don, owner of Brilliant Office Cleaning, said some clients were even asking to have their carpet regularly disinfected.
He expected that business would ramp up in the coming months as the economy reopens. One customer had already increased its number of cleans from two a week to five, he said.
"Earlier we were talking about only the cleanliness, now we are talking about health," he said.
Loading
Matthew Kaneda-Hession, sales and operations director at AMC, agreed the cleaning industry was changing its ways to keep up with expectations of safety.
Clients were warier of what people touched, he said.
"That big green exit button to let you out – have we cleaned that in the past, was it a high priority?," he said.
"The way cleaning used to be was make sure the toilet is cleaned, make sure the vacuuming is done and the ceiling dusted.
"Where the industry will move is the focus on areas that will transfer virus and bacteria."
Tom Cowie is a journalist at The Age covering general news.