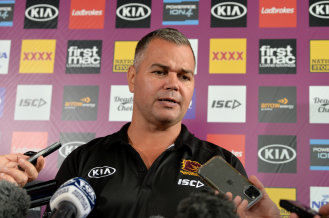 "So the more one-on-one tackles we get … We see that potentially being a weapon of our game."
Seibold had few concerns about reducing the number of referees, saying the bulk of his squad played under one official in the juniors and reserve grade.
He is, however, keen to seek clarification on possible loopholes around the six-again rule, which will be applied to every ruck infringement by the defensive team.
"If we're coming out of yardage and we're winning the collisions and contest we should be rewarded," Seibold said.
"If we're not going to get a penalty, if they make the tackle zero call, that's an opportunity for us to make our way down the field.
"We can critique it and be negative or just crack on with it.
"I'm very glass half-full and let's get on with it."
Newcastle coach Adam O'Brien was also keen to put the issue behind him, but conceded there were plenty of question marks over the six-again call.
"I'm over it now and I just want to get on with it," O'Brien said.
"We haven't been given any clarity (on how it will work). We'll be OK either way.
"We've got guys who will thrive in that environment and guys who it will be challenging for. It will be challenging for big guys in the middle if you get 12 tackles consecutively defending your tryline."
Their comments come after Queensland State of Origin coach Kevin Walters threw his support behind one of the biggest rule changes in recent history.
He said the game had worked "beautifully for 100 years" under one referee.
"We got some better decisions on different occasions but it didn't dramatically change the way the game was played," he said on Fox League Live.
"We've just got to get on with our game. Make it work – and if it means one referee, let's work with one referee.
"Let's just get our game on."
AAP