Malaysia will ease a ban on mass prayers in mosques starting from Friday as the government gradually relaxes curbs that have helped rein in the coronavirus.
The news follows last week's reopening of many businesses in Malaysia, which has a tally of 6819 infections and 112 deaths. It comes before the Eid holiday that ends the fasting month of Ramadan and falls on May 24.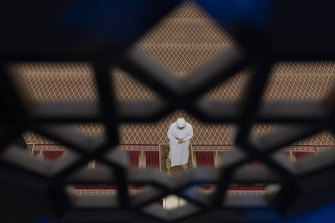 The capital, Kuala Lumpur, is among Malaysia's federal territories that will allow prayers by congregations limited to 30 or fewer, said Zulkifli Mohamad Al- Bakri, the religious affairs minister.
"Even though worship in Islam is not confined only to mosques and suraus, it has a profound effect on the spiritual development of Muslims," he told reporters on Thursday, in a reference to smaller prayer sites.
The measure excludes Malaysia's 12 remaining states, which have their own laws on religious matters, but Zulkifli said they were free to adopt similar measures if they wished.
Mass prayers have been banned since mid-March in a partial lockdown after more than 2300 people were infected in the country's biggest outbreak, following a religious gathering at a mosque attended by about 16,000 people.
Although new daily cases have declined steadily, schools and colleges will stay closed until June 9. Health authorities identified six clusters involving Islamic religious schools, with 635 students and staff testing positive.
Reuters
A global pandemic can make you feel a little helpless but we can all make a difference in our communities at this time, even from home. The most important way to contribute is to follow the health advice to stay at home, self-isolate and wash your hands.
But there are also many ways individuals can help soften the blow of COVID-19 – on disadvantaged and vulnerable people, hospitals, health and public service workers, small businesses, older people and more.
Catholic churches will open across NSW from Friday for private prayer, confession and small-scale Masses as part of the first stage of the relaxation of COVID-19 restrictions.
St Mary's Cathedral will open at 6.30am before the first of four Masses for the day is celebrated at 7am. Catholic Archbishop of Sydney Anthony Fisher said many Catholics would welcome returning to Mass after two-months since churches closed on March 23.
"The celebration of Mass is the highest form of Catholic worship and to not be able to physically gather these past two months has been very difficult for Catholics," Archbishop Fisher said.
"Whilst livestreaming of Mass has helped people to continue to pray along at home it is no substitution for being able to be physically present and receiving the Eucharist. While it will take some time to return to larger celebrations, this first step will offer comfort to many Catholics who have been deeply missing attending Mass.
"The celebration of the Eucharist is an integral element of our faith and for many Catholics, especially those who have never missed the celebration of weekend Masses, these past months have been a real struggle. While it will take some time to return to larger celebrations, this first step will offer comfort to many Catholics who have been deeply missing the practice of their faith."
Catholic worshippers have been asked to register their attendance at church on a national website to allow churches to notify parishioners if a member of the congregation tests positive for COVID-19.
A review of the $130 billion JobKeeper wage subsidy scheme next month will consider extending its September 27 cut-off date, tightening eligibility for some workers and targeting industries hit hardest by coronavirus restrictions.
Prime Minister Scott Morrison on Thursday said the program, which is costing taxpayers $20 billion a month to keep workers connected to their employers, was brought together "at a very quick pace" and some "anomalies and issues" needed to be addressed.
"The review will provide an opportunity to see how the program is going and the experience on the ground and to make any amendments that are necessary," he said.
More than 6 million Australian workers from 860,000 businesses are now receiving the $1500-a-fortnight pre-tax payment, which has helped the government keep millions off unemployment benefits.
The program's massive cost to an already ballooning budget deficit has some Coalition MPs calling privately for it to be wound back as soon as coronavirus restrictions on businesses such as pubs, clubs and restaurants are fully lifted.
But confirmation today that almost 600,000 jobs were lost in April has fuelled concerns among many government MPs the economy will "fall off a cliff" once the massive subsidies finish.
From tomorrow, Sydneysiders will again be allowed to lie on the sand at some of the city's most popular beaches, as NSW continues to ease COVID-19 restrictions.
But with the state government limiting the number of people allowed in a gathering to 10, it's not entirely clear how that will be enforced in public spaces that up to now have been closed – or open strictly for exercise only.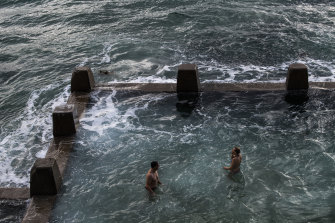 After reopening its beaches in April for exercise only, Randwick City Council will extend that to general recreation from tomorrow, including at Clovelly, Coogee and Maroubra, as well as some ocean pools. (Wylies Baths and McIver's Ladies Baths will stay closed due to upgrading work and staffing limitations.)
The council's playgrounds, outdoor gyms, basketball courts and skate parks will also open for recreational activity for up to 10 people, so long as social distancing is observed.
Mayor Danny Said says beachgoers shouldn't become complacent.
"The relaxation of some restrictions means we're taking small, cautious steps towards life as we used to know it, but is not an indication that we should become complacent," Mr Said said in a statement.
"If at any point an area looks busy or full, we ask that people use common sense and use the facility at another time," Mr Said said.
A Waverley Council spokeswoman said its beaches, including Bondi, Bronte and Tamarama, would remain closed with access to the water only for swimming and surfing.
However, Waverley's ocean pools, playgrounds, outdoor gyms and sporting courts will be open from Friday, with the 10-person limit enforced.
Council staff will monitor visitor numbers at North Bondi and Bronte pools to ensure the restrictions are followed.
Bondi Beach was closed on March 21 after thousands of sunbathers crowded on to the sand, sparking condemnation across the world.
With AAP
Opinion | The formation and unwinding of partnerships pitching to buy Virgin from administration looks like a head-spinning speed dating exercise.
What is clear is that the "20 interested parties" that are bandied about does not represent the number of bidders and certainly not the number of serious bidders. We can say with some certainty that there are three – Ben Gray's BGH Capital, Bain Capital and Canada's Brookfield which have been the stalwarts in this process.
Each has co-opted executives with airline expertise and financial/legal advisers, and BGH appears to have secured AustralianSuper as part of its bidding syndicate.
But various partners within the three major consortiums seem to be playing the field. And even after the indicative bids are presented to the administrator Vaughan Strawbridge from Deloitte, the make-up of the final syndicates will continue to change.
Thailand's biggest shopping centre developers are preparing to reopen malls as early as this weekend amid expectations the country will further ease a lockdown.
The government has signalled the next phase of its economic restart is near after coronavirus cases dwindled. Thailand faces the worst economic contraction in Southeast Asia this year, adding pressure on officials to loosen restrictions with only about two weeks of a state of emergency remaining.
Health Minister Anutin Charnvirakul inspected one of the company's Bangkok malls on Thursday.
Developer Siam Piwat is deploying automatic temperature scanning robots, free face-mask dispensers and disinfecting drones.
Another major developer, Central Retail Corp, previously said it plans disinfectant robots, smart temperature sensors and hand gel services.
Prime Minister Prayuth Chan-Ocha is set to chair a meeting Friday to decide if shopping centers and other retail operations will be allowed to open as soon as May 17.
Bloomberg
News has been spreading of a new inflammatory illness in children linked to COVID-19.
So far, the illness – dubbed PIMS-TS and described as similar to the rare Kawasaki disease – has been identified in more than 100 children in New York State, and linked to three deaths there. It has been recorded in 14 other US states and there have been more than 50 cases in the UK and in European countries including France, Switzerland and Spain.
What is this new syndrome? And what effects has COVID-19 had on Australian children so far?
Of the 300 children in Australia who have tested positive for COVID-19, none has died and none has required intensive care.
Symptoms, in children who do have them, are similar to those seen in adults, including a sore throat and a cough. But there are some differences – Professor Bowen says children's temperature rises are likely to be milder and they are more likely to experience abdominal symptoms such as an upset stomach.
But paediatricians around the world are noticing that children – some infected with COVID-19, some who are not – are winding up in hospitals and intensive care units with "a range of unusual and varied symptoms", says Dr Angus Stock from the Walter and Eliza Hall Institute of Medical Research.
"These include prolonged fever, abdominal pain, low oxygen levels (or shock), rashes and conjunctivitis," he says. "Closer clinical examination has also revealed that many of these children have developed inflammation within their hearts."
The current name for the syndrome is "paediatric inflammatory multi-system syndrome temporally associated with SARS-CoV-2" – or PIMS-TS for short. It's not clear if PIMS-TS is classic Kawasaki disease (which is also a paediatric multi-system inflammatory syndrome) but Dr Stock, who specialises in researching immunotherapies for Kawasaki disease, says the symptoms are similar.
Australian experts have pointed out that countries reporting cases of PIMS-TS have also had thousands or hundreds of thousands of COVID-19 cases. Australia's Deputy Chief Medical Officer, Dr Nick Coatsworth, says given the low number of COVID-19 cases in children in Australia and the rarity of this Kawasaki-like illness, the risk in Australia is low.
At level 3, it was all about fast food and takeaway coffees. Now as New Zealand restrictions ease down a level, it seems haircuts and tattoos are top of the to-do list for newly free Kiwis.
Following Prime Minister Jacinda Ardern's announcement on Monday, New Zealand has officially shifted into alert level 2 today.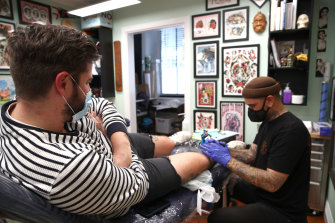 Restaurants, malls, cinemas, shops, health services, hairdressers and tattoo parlours in New Zealand are all allowed to open at level 2.
And it's the latter Kiwis seem extremely eager to get back to, with tattoo studios run off their feet fielding booking enquiries.
Cover-ups, fixing botched home jobs and first-timers are making up the bulk of those for Tom McMillan, who owns the popular Sunset Tattoo studio, in Auckland.
He began taking calls from people trying to book in before the announcement had even finished, and sat up until midnight on Monday responding to emails from Kiwis desperate for some post-lockdown ink.
"We knew as soon as it (level 2) had a firm date we would be run off our feet and yeah, it has been nuts," Mr McMillan said.
The tattoo parlours reopening today aren't quite the same as pre-pandemic. Social distancing guidelines mean there are more spaced out chairs in the waiting room and tables on the studio floor. Staff wear personal protective equipment and at Sunset Tattoo, customers are also provided with masks.
With some tattoo sessions taking four to six hours, Mr McMillan said they will be supplying masks for both customer and artist safety.
"It's not like getting a 30 minute haircut our team will be with people for an extended period of time, so we will do everything we can to be as safe as possible."
Stuff.co.nz
This week, President Trump held a press conference to congratulate the United States on their testing rates but promptly left when asked a pertinent question.
In today's episode of Please Explain, North American correspondent Matthew Knott joins national editor Tory Maguire to discuss how COVID-19 is impacting the US where so far, over 84,000 people have died.