Test cricket's newest nation may lack the commercial power of Virat Kohli's team but the game being Australia's first against Afghanistan in that format should in itself generate interest among fans, even if the hosts would be expected to win comfortably.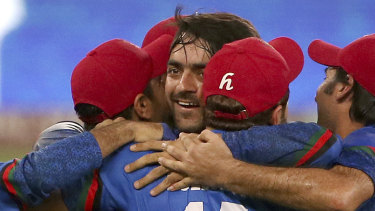 The last time Australia played an inaugural Test against a nation was in 2003 when Ricky Ponting's side hosted Bangladesh in Darwin.
CA last month stood down 200 staff on 20 per cent pay and is wrangling with states over cuts in grants though there is scepticism among stakeholders over the governing body's dire financial forecasts.
"We are hopeful the financial side will be taken less into account but it will be more about extending the helping hand to Afghanistan, where we do not have a lot of international fixtures, so this Test match can take place between the two sides," Afghanistan Cricket Board (ACB) chief executive Lutfullah Stanikzai told the Herald and The Age.
"We have communicated with them [CA] some time ago. There [hasn't] been any indication from them the Test match will be cancelled or won't take place. We are very hopeful the match will take place."
Stanikzai said he had not been told by CA where the Test would be staged, and that it was too early to discuss quarantine measures.
"There haven't been any indications or not it will be cancelled, which is important," Stanikzai said.
It would be a landmark moment for Afghanistan cricket if the Test against Australia was to be played. Cricket became popular among Afghan refugee camps in Pakistan in the 1990s and grew in the 2000s after being the only sport approved by the Taliban.
Star leg-spinner Rashid Khan is the country's most recognised player and has also become a big name in Australia through his deeds with the Adelaide Strikers, while leggie Qais Ahmad and Mohammad Nabi have also had success in the Big Bash League.
Loading
The ACB, which is under financial pressure due to the pandemic, this month announced a 25 pay cut for its coaching staff and has flagged reductions to player salaries if matches cannot resume.
Elsewhere, players have formally told CA the importance of preserving a full domestic season next summer at a meeting between the two parties to discuss a proposal to cut games from state competitions.
Andrew Wu writes on cricket and AFL for The Sydney Morning Herald