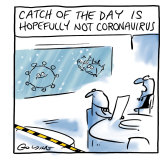 "You can see from the bigger picture, whenever there's an outbreak, there's a stigma attached to where it was. That's human nature," Mr Ling said.
"We consider ourselves part of our local community. So if there is an outbreak connected to our venue, how do we be responsible? Do we have apps or a QR code you have to sign in on when you enter the venue? Is it a piece of paper and a pen?"
Mr Ling likened the new task of responding to the outbreak to the responsible service of alcohol.
"I think this will be another thing we have to do to make sure the public is confident in how we operate," he said.
Dining spots in NSW are to be allowed to open to 10 people from Friday. In Victoria, Premier Daniel Andrews on Monday announced venues would have to remain only takeaway until at least May 31, claiming much of the hospitality industry would not be viable under a 10-person limit.
Kate Bartholomew, co-owner of upscale restaurants Coda (French-Vietnamese cuisine) and Tonka (modern Indian) in the CBD, said with her turnover already down 80 per cent since March, "it would just be impossible to come back" from closing again due to an outbreak.
Health authorities have consistently warned outbreaks would be unavoidable, as coronavirus can easily spread unnoticed via for example, an asymptomatic customer who briefly fails to adhere to social distancing.
The task then becomes reaching out to every close contact as soon as possible. The COVIDsafe app allows that but relies on every diner in the restaurant to have downloaded it.
Ms Bartholomew noted two of Victoria's biggest clusters – at Cedar Meats abattoir (92 cases) and McDonald's Fawkner (10 cases) – had become synonymous with the company names.
"I don't think we would survive it. It's been a long six weeks already," she said.
"There's quite rightly so much fear in the community. Something like a restaurant, it would have a huge stigma attached. Hopefully as we move to June, we'll all feel safer."
Ms Bartholomew said 30 diners would be the threshold for her restaurants to say "'Right, let's take that risk' and open".
Mr Ling agreed a second closure at the Lincoln, because of an outbreak at the venue or a statewide edict, would be devastating.
"In March, we were told the news on a Sunday night and by Monday morning, we were shut," he said.
"We've got so many bills owing to suppliers. Those creditors won't be so understanding the second time round."
But Tony Eldred, a restaurant consultant with 55 years' experience, disagreed that the stigma of an outbreak would be a terminal blow.
Loading
"I put it in the same category as a really bad review or public pinging by the Health Department," he said.
"Normally, trade declines for a month or so and then comes back … if it's not the restaurant's fault, I don't know if the public will hold them accountable."
Mr Eldred said his advice to affected venues would be simple: hire a PR specialist for damage control.
"It's not something I would battle on my own if I owned a restaurant, if I could afford it."
Michael is a reporter for The Age.