For 10 days Ricardo "Rick" Barbaro eluded capture, fleeing across a state border to dodge police questioning over the death of Melbourne woman Ellie Price.
Mr Barbaro, a fugitive no more, arrived at the Melbourne West police station about 7.30pm on Friday after his dramatic arrest at a penthouse apartment overlooking the Parramatta River in Sydney's western suburbs on Thursday morning.
The police prisoner transport vehicle pulled into the station, followed by an unmarked police car with two officers inside.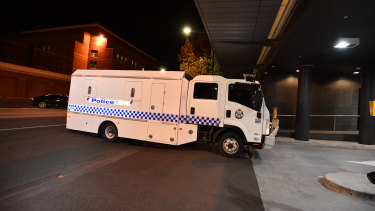 The 33-year-old's disappearance prompted a nationwide manhunt after Ms Price was found dead inside her South Melbourne townhouse on May 4.