Jack Cogger is another off-contract playmaker Canterbury are interested in but their main targets are Wakeham and Foran.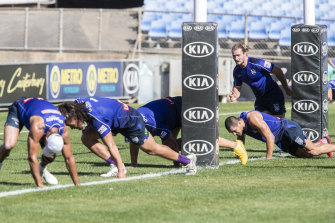 Foran, on $1.2 million this season, is one of the best-paid players in the game but has conceded his next deal will be for much less.
Nobody questions his toughness, class and experience, the problem is keeping him on the park long enough to win games and nurture youngsters like Wakeham.
Wakeham, who started in the Bulldogs' opening two games alongside Lachlan Lewis, is expected to have his new two-year contract announced before the club's first game back against Des Hasler's Manly.
Before he left the club, Hasler paid big dollars to lure Foran to Canterbury. He backed the Kiwi to bounce back to his best when asked on Saturday about the Sea Eagles' premiership winner.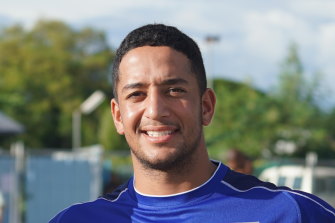 "It's great to see Kieran back and at 100 per cent," Hasler said. "They'll need him and he's a really great addition to any side, particularly the Bulldogs. He's a great player and one we'll need to watch carefully.
"There's a lot of footy left in Kieran Foran, and he's just such a competitor. People don't understand how mentally strong he is. He's been through a bit and he's certainly resilient. That will be really advantageous for the Bulldogs."
Loading
Canterbury still have two spots to fill and are waiting to find out from the NRL if they need to replace sacked duo Corey Harawira-Naera and Jayden Okunbor.
Meanwhile, Hasler was unsure where Manly would play their first few games but put the red pen through Brookvale Oval.
The Sun-Herald understands the NRL will reveal the full draw next Thursday but only the first seven or eight rounds of venues.
One sticking point is finding sites the NRL can have exclusive access to as part of its biosecurity measures.
Central Coast Stadium could emerge as a regular ground for the Sea Eagles, especially with the New Zealand Warriors being based in the area, Newcastle not having to travel far if momentarily forced out of McDonald Jones Stadium and the fact South Sydney have taken games to the holiday strip up the M1 Motorway.
Christian covers rugby league for The Sydney Morning Herald.