Remember the good old days of rugby league when the most pressing concerns were whether Latrell Mitchell was any good at playing fullback or if Kotoni Staggs might be an Origin bolter for the Blues?
That was only in March, even if pre-coronavirus lockdown time feel like a few lifetimes ago. But with rugby league about to return, it's time for a refresher course on how your team looked in the opening rounds and what it may mean for the remaining 18 matches and beyond.
In reverse ladder order, we present for your perusal the two-game form guide for the competition's resumption and the most immediate challenges for your club.
A Western Sydney man will face court on Sunday after allegedly hitting a woman who asked him to step back in a supermarket with a bottle, then allegedly procured a meat cleaver when police detained him.
The 59-year-old woman was buying groceries at Miller Central in Sydney's south west on Friday morning, police say, "when a man stood closely behind her and she asked him to take a step back."
In response, the man allegedly hit her in the head with a bottle.
It did not break and she was treated by paramedics.
When officers approached the man in Green Valley the next day, he allegedly produced a meat cleaver.
He was Tasered and arrested, then taken to Liverpool Hospital as a precaution.
The man was charged on Saturday night with assault occasioning actual bodily harm, using an offensive weapon to prevent lawful detention, two counts of assault police and having custody of a knife in a public place.
He was refused police bail to appear in Parramatta Bail Court on Sunday.
CALGARY: The Calgary Zoo will be returning two giant pandas on loan from China because a scarcity of flights due to COVID-19 has caused problems with getting enough fresh and tasty bamboo to feed them.
Er Shun and Da Mao arrived in Calgary in 2018 after spending five years at the Toronto Zoo and were to remain in the Alberta city until 2023.
The zoo's president, Clement Lanthier, said Thursday the facility spent months trying to overcome transportation barriers in acquiring fresh bamboo and decided it's best for the animals to be in China, where their main food source is abundant. Bamboo is rare in Canada and they prefer only certain kinds.
"They are picky," Mr Lanthier said.
"There's a reason why they are endangered. They need their bamboo. That's all they do. They eat bamboo and they sleep."
Mr Lanthier said the zoo had contingency plans for a steady supply of fresh bamboo, but limits on flights from China was the first problem. Transporting more from California added even more frustrations.
"Every 10 days there is more and more problems moving bamboo to Calgary. This risk is unacceptable," he said.
"I cannot risk not being able to provide the best care to the panda every day. For other species there are options. For the panda it has to be freshly delivered twice a week. It's time for the panda to go back home."
The animals didn't like some of the bamboo they got from other parts of the U.S.
"It wasn't tasty enough," he said. "The panda discarded that shipment."
Other supplies that arrived from Los Angeles were past their expiry point.
"The shelf life of bamboo is four to five days maximum," he said.
Giant pandas have unique nutritional requirements and 99 percent of their diet is made up of fresh bamboo. Each adult consumes about 40 kilograms daily. Lanthier said the news came as a bit of a shock to the Chinese government.
In other locations where pandas are exhibited – such as France, Spain and parts of Asia – bamboo can be grown locally.
He said the pandas had been one of the biggest draws at the Calgary Zoo, but the decision wasn't one about business.
There's no date for when the pandas will return home but he hopes it will happen in the next couple of weeks.
"I hope they move swiftly. We need to move them to a place where bamboo is abundant," he said.
AP
NSW Police have issued their daily update of breaches of the public health orders, with just one person being fined $1000 in the past 24 hours.
The unlucky character was a 19-year-old man in Western Sydney, police say.
"Traffic and Highway Patrol officers were patrolling Emu Plains when they stopped and spoke to a 19-year-old man on Mitchell's Pass. The man could not provide a reasonable excuse for leaving home and was issued a $1000 PIN," said a media release.
With its economy crashing from the fallout of coronavirus pandemic, Italy is turning to an unlikely saviour to rescue its harvests of fresh food: illegal immigrants.
Despite the rise in anti-immigrant sentiment in recent years, Agriculture Minister Teresa Bellanova successfully shepherded through a controversial plan: to give six-month work permits to hundreds of thousands of undocumented migrants from Africa and eastern Europe and let them help with harvests.
Around the world, the race is on to find a vaccine for the potentially deadly COVID-19 and Australian researchers are hard at work investigating drugs and conducting trials.
As Ian Frazer, the clinical immunology professor who developed the HPV vaccination says, "It very well could be Australians who beat this thing."
"We have very talented people. We have the immunologists, the virologists, the protein chemists and cell biologists."
The Federal Government is under renewed pressure to support jobless international students after NSW became the final state to announce a hardship funding package.
The NSW government announced on Friday night that it would provide $20 million to fund temporary crisis accommodation for stranded international students.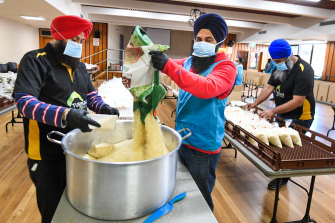 The package includes temporary housing for students in genuine need. It will be delivered through approved student accommodation or homestay providers.
Phil Honeywood, chief executive of the International Education Association of Australia said the long-awaited state government funding "while very late is a welcome start".
"Education providers and charities have been providing wonderful food packages. However, we've needed to focus on emergency accommodation and this initial $20 million will at least provide emergency accommodation support," he said.
"However, we now need a national hardship fund to be announced with every state government and education providers having done the right thing.
"Now that every state government and education provider have done the right thing in the provision of meaningful support it is time the Commonwealth stepped up and announced a national hardship fund."
NSW Tertiary Education minister Geoff Lee said international students make a huge contribution to the NSW "and deserve a helping hand".
"Many have lost their part-time jobs, are unable to return to their home countries and do not qualify for Commonwealth Government support programs," he said.
As we move into the second night of eased coronavirus restrictions and the return of some cafes, restaurants and bars, check out what happened across Sydney on Friday night here.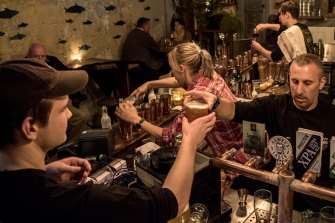 Well. In developing a solution to both the shortage of hospital beds and the safe management of corpses, a Colombian company have come up with a hospital bed that converts into a coffin.
The company's manager, Rodolfo Gomez, pointed out that the bed is biodegradable, weighs 150kg, costs about $AU198 – three times less than a normal one, and meets the requirements of comfort and functionality.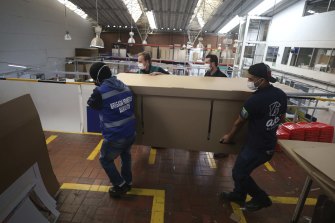 "We developed it because of the situation caused by COVID-19 in the world because we realised that there was a lack of hospital beds," Mr Gomez said.