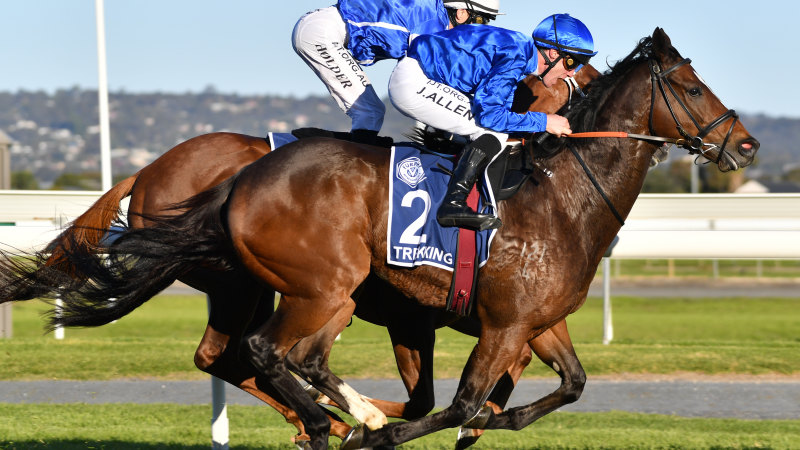 "Bivouac is still the top seed for us but you would not go wrong by putting Trekking in any big race because you know what you are going to get."
Trekking joined Bivouac in winning two group 1s over the past 12 months and gave trainer James Cummings victory in a race which his great grandfather Jim and grandfather Bart had won. He also became the first group 1 winner in Adelaide to wear the Godolphin blue.
"It is great to get the blue colours a group 1 in Adelaide and that was a serious Goodwood," Cummings said. "He has won it with the group 1 penalty, so it is a mighty win from a great sprinter, especially the way he did it.
"He isn't a bad second seed [for the Everest] for us behind Bivouac."
Trekking could defend his Stradbroke title in three weeks, but it would be weight-dependent with Godolphin also setting Luskin Star Stakes winner Ranier, Kementari and Exhilarates for Queensland's premier race.
Loading
"It is hard to know what he would get in a Stradbroke, but he has still got a fair bit of racing in front of him, so we could just send him for a spell," Cox said.
"The Street Crys just seem to get better with age, so he might be stronger in the spring."
The difference in the finish was the strength of John Allen as he got Trekking's nose down on the line to beat favourite Gytrash with Godolphin also running third with the Anthony Freedman-trained Lyre.
"It was my first time riding him and when I got out to the mounting yard, I was surprised how small he was," Allen told racing.com.
"He was tough and he had a super run but the runner-up gave a really good kick. I thought when I got out that we were going to catch him but he kept kicking.
"To my lad's credit, he really fought and kept kicking to the line."
Racing writer for The Sydney Morning Herald