Editorial: Yesterday's announcement that Victoria's restaurants, cafes and pubs can begin reopening for dine-in patrons from June 1 has created hope that things are getting back to normal.
But in some areas we may be better off if our lives did not simply revert to how they were before COVID-19.
Some changes by governments, companies and individuals over the past two months of lockdown have been positive and contain lessons for how we could do things better in future.
Many parents have come to enjoy the system of free childcare which the federal government introduced a month ago to help those in essential services continue working and to keep childcare centres afloat.
While Canberra says it wants to scrap the COVID-19 program and return to partial, means-tested childcare subsidies, it might be worthwhile to make a revised version of the scheme permanent.
Women have been disproportionately affected by job losses caused by the lockdown, and more help with childcare would encourage them to return to work and help repair the economic damage.
Numerous studies have long shown that better access to childcare improves women's workforce participation and productivity. While retaining completely free childcare would be too expensive, this might be a good opportunity for a thorough rethink of the complicated rules.
Read the full editorial here. 
Thailand on Sunday opened malls and department stores for the first time since March in its second phase of relaxing measures as the number of new coronavirus cases slowed.
The country's top mall operator, Central Pattana Pcl said it was reopening 33 of its shopping centres nationwide.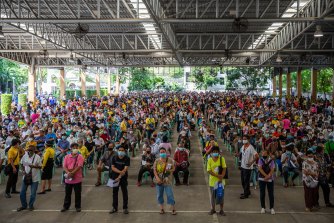 Central Pattana said it would control density by only allowing one person per 5 square meters (54 square feet) and use robots to measure body temperatures and by using touchless elevators.
Scores of shoppers were seen queuing before entering the Iconsiam mall in central Bangkok. Customers are asked to scan a QR code and register on a government website before entering.
"I want to have Japanese food today because I haven't had it for three or four months. The QR code registration is inconvenient for an elder like me," said Sa-nguan Khumrungroj, 65, at Iconsiam.
A machine sprayed disinfectant at shoppers' feet as they entered Iconsiam and another dispensed hand sanitizer.
On Sunday, Thailand reported three additional coronavirus cases, in line with a trend of fewer new daily cases in May. It has reported a total 3,028 cases, with 2,856 patients having recovered and 56 deaths.
Reuters
Spain has registered its first daily death toll of fewer than 100 confirmed fatalities since declaring a state of emergency to fight the coronavirus two months ago.
Spain's health minister says regional authorities have reported 87 new deaths, the lowest daily count since March 16.
Spain reported over 900 deaths a day at the height of the outbreak.
The country of 47 million has had 27,650 deaths and 277,719 infections from COVID-19.
Spain is easing its strict lockdown measures that succeeded in slowing the spread of the virus but has also brought its economy to a halt.
AAP
NSW Labor Leader Jodi McKay has called on the government to announce a public transport plan as more people return to work and school.
Ms McKay took to social media to pose the question ahead of students returning to school to full-time.
Mainland China has reported five new confirmed COVID-19 cases for May 16, down from eight the previous day, the National Health Commission says in a statement.
Two of the five confirmed cases were so-called imported infections, while three were locally transmitted in the northeastern Chinese city of Jilin.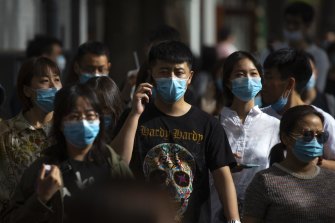 The number of confirmed cases in the mainland now stands at 82,947 and the death toll at 4634.
The three domestically-transmitted cases are related to a district in Jilin city called Fengman, which has been classified by Chinese officials as a high-risk area for COVID-19.
Heightened disease control measures in the district include only allowing only one person from a family to go out and purchase daily necessities each day, acccording to the district's official post on WeChat.
Residents were advised not to leave the city and any who do need to leave must provide a negative test result taken within the previous 48 hours.
Jilin is the second largest city of Jilin province, which borders North Korea and Russia. It temporarily suspended passenger train services last Wednesday.
From across the globe – here is the heartbreaking story of the eight-month-old boy who died as a result of a rare childhood illness linked to Covid-19 as told by the Mirror.
Alexander Parsons is believed to be the youngest victim of Kawasaki disease in the UK.
Take a look at the front page story here:
It was the first weekend that playgrounds were open since the easing of restrictions, with families taking advantage of the sunny skies in Sydney today.
Herald photographer Edwina Pickles captured these lovely shots of the play equipment at Marks Park in Tamarama.
Take a look: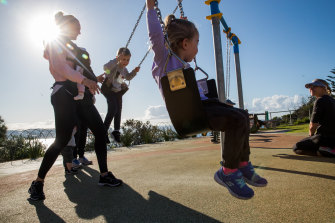 Australia and the European Union are privately urging African states to support a key vote calling for an independent inquiry into the coronavirus pandemic as countries backing the push grow increasingly confident of securing the votes.
More than 60 nations – including Russia, India, Japan, Britain, Canada, Brazil and all 27 European Union member states – have come together to back Australia's call for an independent review.
The tense negotiations, which will likely drag on over the next 24 hours, come as high-ranking phone calls to Beijing have gone unanswered over an escalating trade dispute between Australia and China.
Trade Minister Simon Birmingham on Sunday said the calls to his Chinese counterpart "ought to be returned" and did not rule out taking Beijing to the World Trade Organisation after hitting Australia with trade strikes on $1 billion worth of beef and barley last week.
Read more here. 
A pizza shop and bedding manufacturer have been closed for cleaning after a person infected with coronavirus either visited or caught the virus from the sites.
Domino's Pizza in Fairfield has been closed for two weeks for thorough cleaning and all 16 staff members will be tested and quarantined for 14 days.
As a precaution, Deer Park bedding and foam manufacturer The Comfort Group has also been closed since Friday and will remain closed until at least Wednesday while investigations continue.
The Department of Health and Human Services spokesperson said work was being done to clean and contact trace to ensure there were no future infections.
The number of coronavirus cases in Victoria is now 1,561, an increase of seven since yesterday.
Of the seven new cases, two are linked to the outbreak at Cedar Meats, three were detected from returned travellers in mandatory hotel quarantine and two remain under investigation.