Victoria is on the move again. After weeks of stay-at-home orders, the gradual easing of restrictions is starting to bring society back to life. It's a welcome development. While the road back will be long, Victorians should stand proud of their collective efforts so far.
The pay-off is starting to be realised. During the past week, many would have visited friends and family, or ventured further afield to exercise or shop. For those living on their own, struggling with their mental health or in a vulnerable position, the changes must offer some much-needed relief. While technology has allowed us to stay in touch, it will never replace human touch.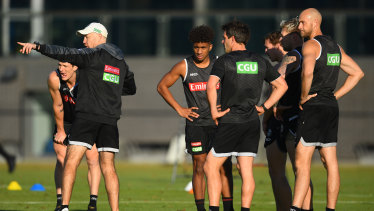 For AFL fans, seeing players and coaches back on the training track on Monday must have lifted spirits. After weeks of painstaking negotiations, the chances of seeing an eventual grand final are much improved. While it's unlikely fans will enter a stadium any time soon, and round one highlighted the diminished state of the game without them, the sight of the players is still a very welcome distraction.
The next big step is schools. After so much heated debate, once the return dates were put in place the criticism fell away. While most states sent students back earlier, The Age has supported Victorian Premier Daniel Andrews' more cautious approach. Having hundreds of thousands of students back in the classroom is no small thing: trains and trams will begin to fill, drop-offs and picks-ups will bring congestion back to the roads. But for parents of younger children, and VCE students, it will ease the pressure. Universities are also looking at ways to welcome students back to lecture theatres.