On Tuesday, the referees union will enter another round of conciliation talks with the NRL after filing a complaint with the Fair Work Commission over the game's return to a one-ref system. 
Harrigan said if the referees turned their backs on the game in protest, it would have long-term consequences.
"Everybody wants the game up and running and they're all counting down, 10 days, 9 days to go," Harrigan said.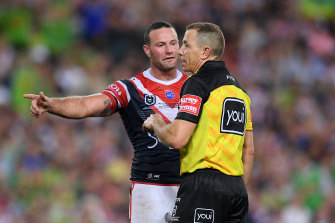 Harrigan has long been a supporter of the return to the one-referee system. He said having one person in charge creates consistency throughout the match.
On Wednesday, the ARLC agreed to return to one on-field referee and introduce six more tackles instead of a penalty for ruck infringements.
Harrigan said bringing in low-level referees to implement the new rules during a strike would have a huge effect on results.
Loading
"If that is what had to happen to get the game back up and running, that's what you'd have to do," Harrigan said. "But if you look at the NFL, a couple of seasons ago they did exactly that and a lot of the supporters weren't happy with the officials and the ability of the officials.
"But it still got the competition going, and then they got sorted out. So I think you only ever use strike action as a dead-set last resort."