We're back. Travel is back. Movement is back. There's light at the end of the home-cooked, self-isolated tunnel.
West Australians are already allowed; South Australians too. Territorians can move around. Queenslanders can take small trips. NSW will allow recreational travel from June 1. All we need is Victoria and Tasmania to come to the party – which they inevitably will – and we're back in a situation where all Australians can enjoy a holiday, even if the destinations are severely restricted.
That's cause for celebration for many of us. It's also, however, cause for apprehension. Yes, we can travel. But should we?
The interesting thing is that anyone who's done much travel in the past will already be familiar with these feelings of apprehension. Every time you go somewhere new you're taking a risk. You're taking a chance on the unknown. You're trusting your instincts and taking a punt.
Indonesia has recorded its highest single-day rise in COVID-19 cases as the government is preparing a "new normal" by July.
Health ministry official Achmad Yurianto announced Wednesday that confirmed cases of COVID-19 infections spiked by 693, taking the total number of infections nationwide over 19,000, including more than 1,200 deaths and about 4,500 recoveries.
The previous highest daily increase in COVID-19 cases was recorded a week ago with 689 new cases.
President Joko Widodo has said the country must be ready for a "new normal" by July. However, Indonesians are worrying over little commitment from the government and citizens to fight the virus as the numbers of COVID-19 cases and deaths continue to rise across many provinces outside the capital, Jakarta.
So far, only four out of 34 provinces and dozens of cities have applied the restrictions – all with a low-level of public compliance and a low testing rate, at 154,000 for a population of about 270 million, compared to other countries.
Many areas in the country's most populous island of Java have not formally implemented the restrictions, despite the fact that more than 60% of cases and about 80% of total the deaths in the country have been recorded on the island.
AAP
For those among us who have had to make do without the aid of a manicurist these past three months, there is good news: nail salons may open as early as June.
But they may not be exactly as we remember them before lockdown. Nail salons, like beauticians and tattoo parlours, will have a 20-person limit on their premises. Clients will also have to provide their contact details so they can easily be traced. And greater discretion will be left up to individual states.
We spoke to two Sydney-based nail stylists to find out what we can expect after walking inside and hearing those three little words: "pick a colour". Read what they had to say here. 
Spain has made it compulsory for all citizens, including children over six, to wear masks in public spaces as one of Europe's strictest lockdowns gradually unwinds.
The Health Ministry order said the masks – whose efficiency in curbing the coronavirus is hotly debated globally – would be needed from Thursday for indoor public spaces and outdoors when impossible to keep a two-metre distance.
Spain has suffered 27,778 deaths and had 232,037 cases of the COVID-19 disease, according to latest data, while the tourism-dependent economy is forecast to contract up to 12.4 per cent in 2020 due its virtual paralysis since mid-March.
But the pace of new fatalities has slowed to under 100 a day, and Prime Minister Pedro Sanchez's left-wing coalition is aiming to lift most of the lockdown by the end of June unless there is a second wave.
To keep control on the gradual phase-out of restrictions, which vary from region to region, the government is requesting a two-week extension of the state of emergency. The lower house of parliament, where Sanchez needs some opposition support for a majority, was due to vote on that on Wednesday.
Some are getting weary of the restrictions: demonstrators of up to a few hundred have been gathering daily at 9 pm to bang pots and pans and call for the government's resignation. Mainly in wealthy, conservative neighbourhoods, the protesters have often ignored social-distancing rules.
Madrid has eased restrictions to allow children outdoors, and shops and beaches to reopen. But it is keeping a quarantine for overseas travellers for another two weeks.
Reuters
School parents and citizens associations are unable to spend new money or approve school projects during the coronavirus pandemic, owing to a decades-old constitution that fails to recognise online meetings.
The constitution requires the associations hold one meeting each term as well as an annual general meeting. But voting can only occur when members are physically present, according to the P&C Federation's interpretation of the document, which has left groups in limbo during the pandemic.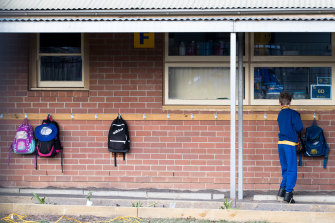 The federation has asked the NSW Education Minister Sarah Mitchell to amend its constitution under the Parents and Citizens Associations Incorporation Act 1976.
"The constitution doesn't have a specific enabler to allow online meetings," P&C Federation president Tim Spencer said. "There are some potential legal issues or risks associated with making decisions online, that we don't want members to have to stick our neck out for. A lot are stuck at the moment."
Mr Spencer said many P&Cs were unable to make financial decisions, including spending government grants, authorising new building or school improvement projects, and paying JobKeeper wages to eligible canteen or uniform shop staff.
There's never a good time for a powerful cyclone to hit heavily populated areas, but it's hard to think of a worse time than in the middle of a deadly pandemic. But it's May, 2020, and here we are.
Cyclone Amphan has begun dumping rain on coastal India and Bangladesh as more than two million people are being moved to shelters before the storm hits land.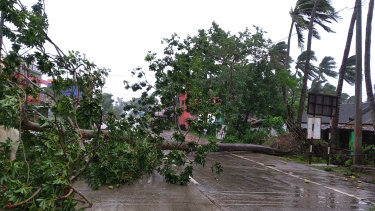 The storm slowed slightly as it reached cooler waters near the coast earlier today. But with wind speeds ranging between 160 and 170km/h, the storm could cause extensive damage: winds and heavy rain battering flimsy houses, a storm surge that may push seawater 25km inland and the possibility of flooding in crowded cities like Kolkata.
Bangladesh is attempting to evacuate 2.2 million people to safety, officials said.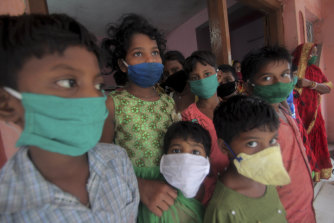 Indian state West Bengal has been evacuating over 200,000 people overnight, while Odisha state has evacuated over 100,000 people, officials said.
Videos and photos show residents heading to shelters, some carrying bags with their belongings and all wearing masks to protect against the coronavirus.
Art lovers in NSW should be prepared for timed tickets, no large group entries, closed cafes and social distancing markers as galleries scramble to reopen to the public for the first time in more than two months.
Directors have warned visitors to expect an altered gallery experience in the coronavirus era as they get ready to open their doors from June 1.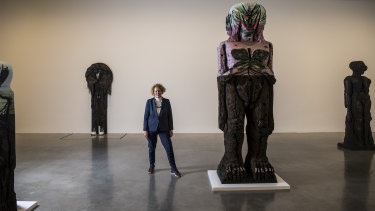 NSW Premier Gladys Berejiklian yesterday "cautiously" invited galleries, along with museums and libraries, to open but "with strict new protocols in place".
Art Gallery of NSW director Michael Brand called the announcement a "pleasant surprise" and said the institution was ready to open.
The gallery will introduce timed tickets in half hourly batches to control the number of people visiting but there will be no restriction on the length of time patrons can stay. Management is still working out the absolute number that will be allowed inside.
Director of the Museum of Contemporary Art Elizabeth Ann Macgregor said she was "absolutely thrilled" at the announcement and that the MCA should open by "mid-June".
Workplace safety rules for travelling in lifts have been watered down to shorten waiting times of more than 90 minutes for workers entering high-rise office towers.
Safe Work Australia has now removed an earlier guideline for lift use during the pandemic which said workers should "maintain 1.5 metres distance when travelling in lifts where possible".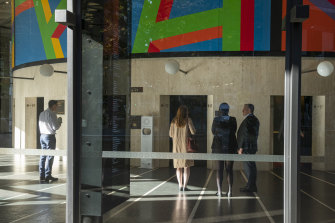 The guideline was updated overnight to say: "there is no requirement to provide 4 square metres of space per person in lifts, however you must still ensure, as far as you reasonably can, that people maintain physical distancing in lifts and lift waiting areas".
The regulation also says "users of lifts must maintain physical distancing, to the extent possible. Lifts must not be overcrowded and users should avoid touching other users".
The change in safety rules follows building managers' concerns about the time needed to enter and leave buildings, particularly high-rise office towers.
But the wait times for returning workers using lifts are still expected to be longer than usual.
Chinese doctors are seeing the coronavirus manifest differently among patients in its new cluster of cases in the northeast region compared to the original outbreak in Wuhan, suggesting that the pathogen may be changing in unknown ways.
Patients found in the northern provinces of Jilin and Heilongjiang appear to carry the virus for a longer period of time and take longer to recover, as defined by a negative test, Qiu Haibo, one of China's top critical care doctors, has told state television.
Cases in the northeast also appear to be taking longer than the one to two weeks observed in Wuhan to develop symptoms after infection, and this delayed onset is making it harder for authorities to catch cases before they spread, said Qiu, who is now in the northern region treating patients.
Scientists still do not fully understand if the virus is changing in significant ways. The differences Chinese doctors are seeing could be due to the fact that they're able to observe patients more thoroughly and from an earlier stage than in Wuhan.
When the outbreak first exploded in the central Chinese city, the local healthcare system was so overwhelmed that only the most serious cases were being treated. The northeast cluster is also far smaller than Hubei's outbreak, which ultimately sickened 68,000 people.
US President Donald Trump has defended his public admission that he is taking a prescription malaria drug to try to ward off the novel coronavirus despite medical warnings about its use.
"People are going to have to make up their own mind," Trump said about hydroxychloroquine during a visit to the US Capitol. "I think it gives you an additional level of safety."
The US Food and Drug Administration has warned about potential serious side effects with the use of the drug in COVID-19 patients.
Weeks ago, Trump had promoted the drug as a potential treatment based on a positive report about its use against the virus, but subsequent studies found that it was not helpful.
The White House physician, Sean Conley, said in a memo released late on Monday that he and the president had discussed the evidence for and against taking the drug and had agreed that "the potential benefit from treatment outweighed the relative risks".
Vice President Mike Pence, whose press secretary, Katie Miller, has contracted the coronavirus, told Fox News Channel in an interview that he was not taking the drug.
"I'm not but I would never begrudge any American taking the advice of their physician," Pence said, according to a transcript of the interview. He noted the FDA had approved "off-label use" of the drug when prescribed by a physician.
"My physician has not recommended that but I wouldn't hesitate to take the counsel of my doctor. Any American should do likewise," he said.
At a meeting later at the White House, Trump's cabinet members also defended the drug's efficacy in treating coronavirus infections.
"I think it's worth it as a line of defence and I'll stay on it for a little while longer," Trump said at the meeting. "It's gotten a bad reputation only because I'm promoting it."
Reuters