Mr Gonski, who is also chairman of ANZ, predicted international travel would rebound and said Australia had handled the crisis very well, which made it a "diamond within the world, and people will want to come here" for international education.
Loading
He said educating international students strengthened Australia's standing in the world and their presence was part of the country being open, global and diverse. He also downplayed the danger of dependence on Chinese students, who account for a third of international students.
"A lot of people have written about how getting all these overseas students is not a good thing. I'm very proud of what our universities have achieved," he said.
"Whenever you run a business, there are obviously risks and there are mitigants to it … we've been absolutely delighted to have our Chinese students and, by the way, they have met our criteria and been very good students, and we're proud of it. But at the same time, we haven't been foolish. We put aside some money," he said.
UNSW has one of the largest international student populations in the country and is facing expected losses of $600 million this year. Universities nationally are projecting a blow of $3 billion to $4.6 billion over the next six months with 120,000 international students, or 20 per cent of overall numbers, stuck offshore.
Mr Gonski said universities were not "only looking for government money" as they looked to recover from the crisis, calling for stronger ties between higher education institutions and the business world.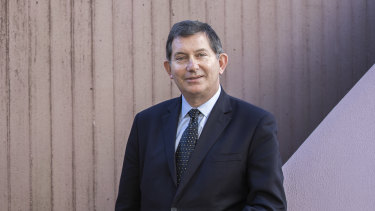 He suggested corporate figures tended to view universities as enclaves of academic thought and forgot about researchers "diligently trying to solve problems, many of which could be exploited, developed and indeed solve problems" for businesses.
"This is a wonderful opportunity to realise that in our backyard, we've got these universities, we've got these researchers, if we bring them together with industry, it's amazing," he said.
Professor Jacobs said universities and business had forged strong relationships to commercialise research but "we haven't done it as well as we could". He said Australian discoveries were too often being commercialised overseas.
Loading
The vice-chancellor has called for greater incentives for research commercialisation and boosted investment, whether it was from government or business, that would be accountable to performance milestones.
He said the market for international education, post-pandemic, would "continue to grow exponentially this century and Australia has a real edge competitively compared to any other country in the world".
Professor Jacobs said UNSW had not been irresponsible in depending on Chinese students.
"We knew what we were doing. We put aside funding and we are now using that funding to deal with the immediate consequences of that situation," he said.
Fergus Hunter is an education and communications reporter for The Sydney Morning Herald and The Age.