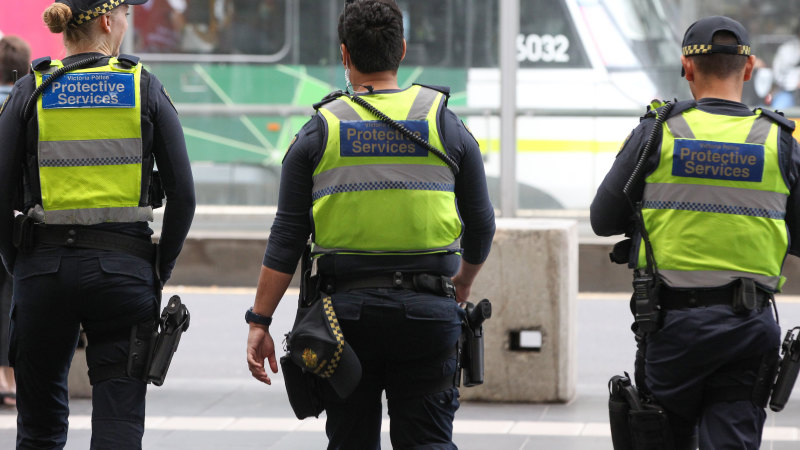 The absence of any proper recording of crime data at train stations made it impossible to evaluate whether the PSOs were actually having any real impact on crime rates. It was a fundamental flaw for an initiative sold on its ability to decrease crime and anti-social behaviour.
The Auditor-General was not the only one to take aim at PSOs. The Independent Broad-based Anti-corruption Commission, which oversees all aspects of policing, also revealed some shortcomings. It looked at a litany of complaints over assault and excessive use of force, unauthorised access and disclosure of information obtained during patrols, and predatory behaviour against members of the public, most commonly PSOs obtaining a young woman's personal details to enable social contact. While Victoria Police responded by improving training, reports of excessive use of force continued, including shocking footage of a man being repeatedly hit with a baton by a PSO.
Loading
So it's hardly surprising that the latest proposal to expand the reach of PSOs has again been met with scepticism. Gregor Husper, principal lawyer with the Police Accountability Project, said he was concerned about a lack of accountability measures: "The public has no confidence in the police complaints system … Incremental increases in police powers are incrementally eroding hard-won freedoms."
The Age shares such concerns. According to a 2018 joint parliamentary report, the system assessing and investigating complaints about police misconduct has some serious flaws. One of the most glaring shortcomings is the lack of a dedicated division within IBAC with the necessary skills to investigate police misconduct properly.
While The Age supports the expanded duties for PSOs during the pandemic – there was little need for patrols of abandoned train stations – it would like to see any continuing role for PSOs beyond train stations include further commitments to better training, and more resources allocated to the police complaints system. One without the other is only going to exacerbate the shortcomings and misgivings that already exist regarding PSOs.