"In March we approved the Snowy 2.0 Segment Factory and this month we have approved the Snowy 2.0 Main Works, enabling the creation of new jobs and the flow of substantial investment into our state," Mr Stokes said.
The project's owner, Snowy Hydro, would be required to invest almost $100 million for biodiversity and environmental offsets to protect the values of the Kosciuszko National Park, he said.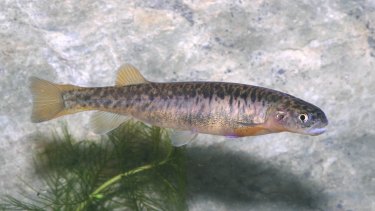 When completed, the scheme will involve the construction of a 27-km tunnel to pump water from Talbingo Reservoir to the Tantangara dam, with electricity generated by releases from the upper reservoir. It would be Australia's largest energy storage venture at 350 gigawatt-hours at its maximum capacity.
As part of the approval, the government granted Snowy Hydro an exemption from two critical provisions of the NSW Biosecurity Act that was designed to prevent the transfer of invasive species, Professor Lintermans said.
Loading
"It is unprecedented for a government to grant an exemption that will likely cause the extinction in the wild of a species," he said.
The government touted the benefits of the new project, which it said would create as many as 2000 new jobs and inject $4.6 billion into regional NSW.
"Snowy Hydro is an icon of our community, with Snowy 2.0 already employing about 500 people, directly injecting more than $35 million into the Snowy Mountains and involving more than 100 local businesses," Deputy Premier John Barilaro said.