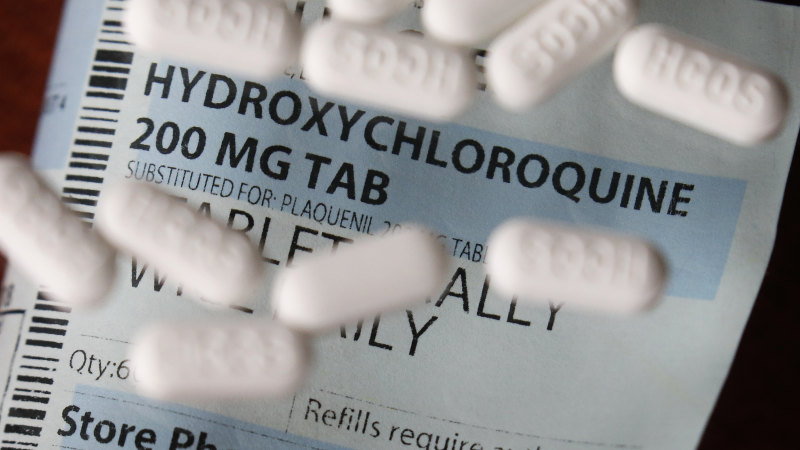 "We really do not know if chloroquine or hydroxychloroquine are beneficial or harmful against COVID-19," said the University of Oxford's Professor Nicholas White, the study's co-principal investigator. "The best way to find out if they are effective in preventing COVID-19 is in a randomised clinical trial."
Loading
In Britain, Europe and Africa participants will receive either hydroxychloroquine or a placebo for three months. In Asia they will receive either chloroquine or a placebo.
A total of 25 study sites are expected to be open in the UK by the end of June, with plans for further sites in Thailand and Southeast Asia, Italy, Portugal, Africa and South America. The results are expected by the end of this year.
In Australia, more than 2000 frontline health workers are expected to take part over the next four months in a "gold standard" double-blind trial known as COVID Shield.
Professor Marc Pellegrini, who is helping lead the $3-million Australian trial for the Walter and Eliza Hall Institute, said the drug was more likely to work in the very early stages of an infection or to prevent one taking hold in the first place, in the same way that anti-HIV drugs or the antiviral Tamiflu work.
The team behind the Australian trial hope it will now give "a definitive answer" on drug's use as a preventer – but stress it should not be taken outside medical advice.
Doses will be low in the trial compared to many other studies testing it on COVID-19 patients and applicants with risk factors will be screened out. Half of participants will get the drug, the other a placebo, but all will be "carefully monitored", even put through regular ECG scans of their heart.
– Reuters, with Sherryn Groch