Mr O'Connor has two years left on his term and if he does not resign, the dispute could head to the courts, multiple union sources said. He is the brother of senior federal Labor frontbencher Brendan O'Connor and influential in Labor and the union movement.
The push to remove Mr O'Connor was discussed at Thursday's national executive meeting. The vote calling on him to resign was backed by the construction and maritime divisions, while mining and manufacturing opposed it, multiple sources said.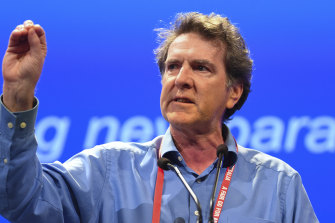 Mr Setka told the national executive meeting he had lost confidence in Mr O'Connor after the national secretary told him that he thought the union-busting Ensuring Integrity Bill was inevitable.
"I was actually f—ing shocked at that to be quite honest, pardon the 'f' words and all that," sources say he told the meeting.
"I just thought it was a pretty shitty attitude."
Mr Setka also told the meeting there was too much division in the union and he felt "betrayed".
"There's been a lot of shit has been said, there's been a lot of backstabbing going on," he said. "If you are going to throw a rock at me, I'll throw a mountain back."
Christy Cain, an official with the union's maritime division and a strong supporter of Mr Setka, was proposed as a replacement national leader.
"Michael's position is untenable," Mr Cain told the meeting, sources said. "We are looking like a gang of rabble.
"I don't need to do this, I'm elected for three years … I don't need it," Mr Cain said. "So I'm not doing it for money and I'm not saying it for anything else other [than] to move the union forward.
"If we don't, we are finished."
Mr Cain told the meeting that Mr O'Connor had a conflict between his dual roles as national and manufacturing secretary at the CFMMEU.
Loading
It was the first meeting of the national executive in almost a year.
A leak of comments from last year's meeting, along with another leak in 2019 of graphic details of Mr Setka's harassment of his wife created deep divisions in the union.
The manufacturing division and the Victorian construction division have been in the Federal Court over the alleged poaching of manufacturing division members by construction.
If you or anyone you know needs support, you can contact the National Sexual Assault, Domestic and Family Violence Counselling Service on 1800RESPECT (1800 737 732), Lifeline 131 114, or beyondblue 1300 224 636.
Ben Schneiders is an investigative journalist at The Age and has reported extensively on wage theft, corruption, business, politics and the labour movement. A three-time Walkley Award winner, he has been part of The Age's investigative unit since 2015.