Police closed down the area as a precaution in an attempt to locate the offender with Special Emergency Response Team officers armed with heavy weapons helping to secure an apartment building on the intersection, surprising local residents.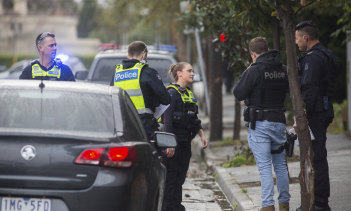 Police began to reopen roads after 4pm, but a small section of Alma Rd, between Alma Place and St Kilda Rd was still taped-off as police continued to comb through the site.
Acting Senior Sergeant Matt Wilmot said at this stage police didn't know whether the person responsible for damaging the vehicles was related to the initial call.
"Whether [the police car has] been targeted or not, we're not sure, that will form part of the investigation, but certainly it is a marked police vehicle that has been struck by a projectile," he said.
"This is a ball bearing that has been discharged at enough force to damage windows of vehicles, so if that was to hit a person that could certainly cause a serious injury."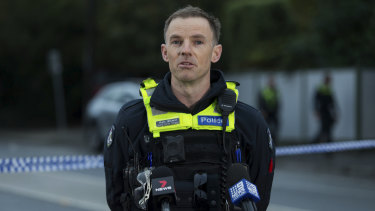 He said who the offender was and where the ball bearing was fired from would form part of the investigation, but at this stage police believed it may have been discharged from above.
Trent Carslake, who lives in the apartment building that police were searching, described the scene as 'a bit strange'.
'My neighbour opened the door and there were police holding guns and she was told to close the doors and then she's been evacuated downstairs, I guess into the light shop,' he said.
He waited across the road with his dog, unable to re-enter while police cleared apartments.
Mr Carslake described it as an 'amazing building' with a great community feel.
'Everyone gets along well. We are all friends and have a good community there so I don't know what's happened.'
Nicole Precel is a journalist and audio video producer at The Age. She is also a documentary maker.