"That's a No.1 priority for me and the business," Clarke said. "We had very fruitful discussions with our current broadcast partner in Fox Sports this week about how the balance of this year looks. Those discussions will continue next week. I'm confident we will get some clarity within a week or two, given that we're trying to kick off a Super Rugby season domestically on the third and fourth of July. Time is of the essence. Those conversations are well advanced."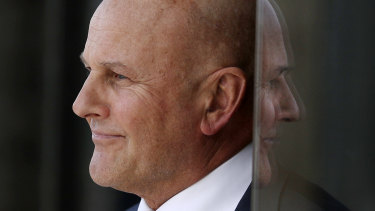 Asked what revised dollar figure he was after and how big a reduction it may be, Clarke said: "That's still in discussion. When the final negotiations conclude, I'll have an answer for you. At this point it is too early."
Fox Sports, which was not happy that former chief executive Raelene Castle rejected an initial offer of $35 million a year for the next broadcast window from 2021 to 2025, could play hardball when negotiating a new value for rugby content this year.
Given the new competition is not the same as Super Rugby, its value may decrease significantly. However, what happens later in the year with the Test calendar could prove critical, particularly if there are more Bledisloe Cup matches.
If RA doesn't get a decent return this year, and for its next five-year broadcast agreement, it could markedly affect the salaries of Australian players, who have already agreed to a 60 per cent pay cut for six months until September 30 due to COVID-19.
The financial viability of retaining four Super Rugby franchises could also be brought into question.
Pressed on what the future looks like for players, Clarke said: "I'm not in a position to answer that yet because there is a lot of water to go under the bridge before we know with certainty how the balance of this year clears up and then of course what next year looks like. We'll work through that methodically and we'll keep RUPA [Rugby Union Players Association] and our players informed."
Once RA signs off on this year's broadcast deal with Fox Sports, it will begin further negotiations with RUPA.
Loading
Players are already back at training gearing up to get back into action. Super Rugby fixtures came to a halt in mid-March after seven rounds.
Confirmation is expected this week on the exact make-up of the competition, with Clarke saying the Sunwolves are still a chance of being there.
"As you can imagine, it's not a quick process to get clarity from certainly the government in the first instance and then the Sunwolves having to react to that to understand to what they can do in what time frame," Clarke said. "We're working diligently on it but we don't have a final answer."
Tom Decent is a journalist with The Sydney Morning Herald