The building's fate had hung in the balance since the state government announced a new $1.5 billion hospital would be built on the other side of Footscray, paving the way for a redevelopment of the existing site.
But Heritage Council of Victoria has saved the squat, four-storey building, awarding it protection.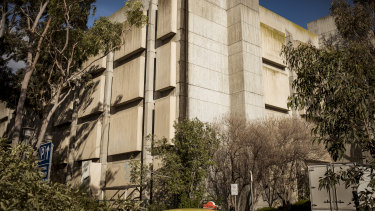 ''The intact features … contribute to an understanding of the regionalisation of mental health treatment, the shift away from asylums and large institutions [and] the shift towards … smaller-scale centres located close to other health services,'' its decision said.
It also determined the building, used as a psychiatric hospital from 1977 to 1996, to be ''a striking, prominent, highly intact and notable example of a Brutalist building''.
The council compared the building favourably to other Brutalist buildings in the register, including the Harold Holt Memorial Swimming Centre in Glen Iris and Clyde Cameron College in Wodonga.
Loading
The landmark, which had been serving as overflow storage space for the hospital, was championed by Brutalist enthusiast John Jovic, who brought its potential loss to the attention of The National Trust.
"It's fantastic, it's just absolutely superb," Mr Jovic said of the decision. "It's been about four years' work. It's unexpected actually.
"[Brutalism] is not universally liked, and it's quickly disappearing," he said. "So a decision like this, by the heritage council, is very important."
The trust nominated the building to the Victorian Heritage Register last year.
"Despite its foreboding aesthetic, Brutalist architecture has been gaining popularity and critical attention, and there is increasing urgency to protect the best examples of the style," its chief executive Simon Ambrose said.
"We think this architecturally striking building is ripe for re-imagination."
Mr Jovic suggested the building was perfect to house creatives, such as artists or technology start-up entrepreneurs.
But the Gordon Street building, owned by the Department of Health and Human Services, has long divided the community.
Former Greens member of the Victorian Legislative Council Colleen Hartland, who lives nearby, called it an "ugly concrete bunker".
She said refurbishing the building would be costly and it would better used as part of the old hospital's redevelopment.
"I have no understanding about why you would put a heritage overlay on it," she said.
"I'd always presumed that that building would be demolished along with the rest of the hospital."
Ms Hartland said she hoped the site would be used for social housing and open and retail spaces.
Chloe Booker is a reporter at The Age.