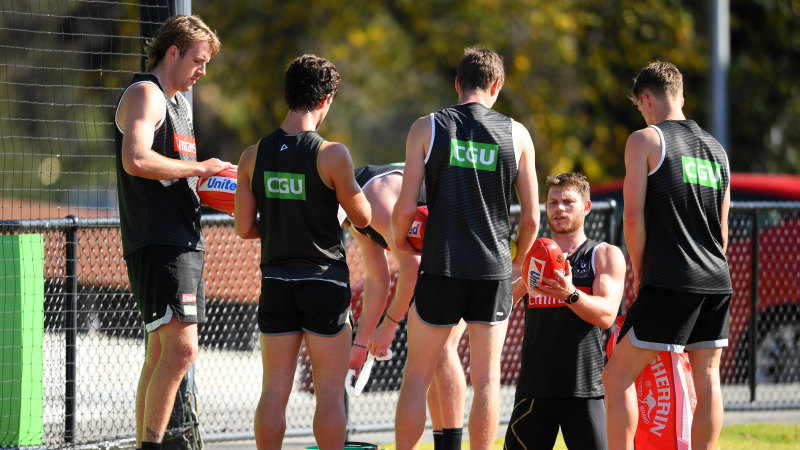 Loading
Commentator Dennis Cometti reckons this season should simply include "exhibition games", without any emphasis on results or individual accolades. "I don't think there should be a premiership or a Brownlow Medal," Cometti told Triple M.
There's no doubt this season will be unique, but does that make it inferior? An asterisk next to this year's premiers would indicate that the competition was not just different, but something less.
This is just not the case.
Don't worry about it being different. Let's be frank, before 1987 the VFL, which later became the AFL, included only Victorian teams. Given we now have eight non-Victorian teams entrenched in the competition, should all those who won flags in the pre-AFL era have asterisks next to their premierships? Should they even be counted?
Then there's the notion that the season is less significant because it will be only 17 rounds, but again there's been plenty of premierships won in the past where seasons have been less than the standard 22 games. In the earliest years of the VFL, the season was 14 rounds plus finals. Before long the season was extended to an 18-game season, only one less than will be played this year. During the years of World War I, one season was reduced to as few as 12 rounds. During World War II, some of the seasons contained as few as 16.
In 1968 the season was extended to 20 games, and in 1970 it became a 22-game season to ensure each team played all other teams twice. Even with teams being added, it's been a 22-game season ever since, except for 1993, which was only a 20-game season.
So many potential asterisks.
Then there's the multitude of finals systems the VFL and AFL have used to determine its overall winner, which has led to a final 4, then 5, then 6 and now 8. In 1924 there was no grand final at all. Instead, a new system was trialled where the top four teams played each other in a round robin competition. The winner of this series would then go on to play the minor premiers of the home and away season. The problem was that Essendon won both the minor premiership and the round robin series. Given they couldn't play against themselves, the grand final was not staged.
So, there have been plenty of unusual seasons. But more than anything, what really makes the idea of an asterisk sitting next to this season unnecessary is the idea that it is somehow inferior. Let's not forget that when you push aside the money, fame, celebrity and commercialisation of modern sport, it's still about the struggle.
Loading
This notion was perhaps never more at the forefront of the ethos of sport than in the age of amateurism, but it is still important today. In fact, the idea that something is worth doing because it's difficult, challenging and provides an opportunity to learn and grow – all in the pursuit of excellence – has never been more relevant.
This will be a challenging season for all clubs, coaches and players. In fact, it will be one of the most challenging seasons in the game's history, which might, in fact, make an asterisk next to the season worthwhile, but certainly not because it's inferior.
As AFL great Wayne Carey put it, "If you win (the premiership) this year, there might be an asterisk saying this is the best premiership ever."
Sam Duncan is a lecturer in sports media and marketing.