"That is going to be a big, big change for us."
With social distancing restrictions making large family and religious gatherings impossible, Sydney's Islamic community is remaining close via social media.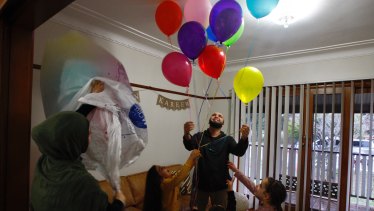 While the family would usually begin celebrations by going to pray at Lakemba Mosque, then onto Roberts Park in Greenacre, before visiting relatives over three days, prayers will this time be video broadcast from 7am, with the Dalatis going on to have breakfast together at home before exchanging gifts.
Loading
"We're taking it in our stride," Mrs Dalati said, adding she was putting balloons around the house to keep the children excited.
Meanwhile, the family-run Al Fayhaa Bakery in Lakemba is still expecting a queue despite the mosque remaining closed on Sunday.
Owner Samir Daher said the community members had been supporting one another during the pandemic, with a bit of excitement now arriving with the festivities as party orders and preparations are made.
"We don't know what we're expecting, it's the first time this kind of thing has happened, so it's exciting to see what's going to happen," Mr Daher said.