With the T20 World Cup likely to be postponed and possibly as soon as this Thursday when the International Cricket Council board meets, it is expected the Board of Control for Cricket in India will plant the IPL in the spring window it was to be held in.
Former Australia captain Ian Chappell believes CA should not let stars like Pat Cummins, whose contract with Kolkata Knight Riders is worth $3.2m for a single season, travel to the IPL this year, telling Wide World of Sports it was a "chance to stand up and say the cricket world isn't going to be pushed around by India" and that players had an obligation to appear here during a home summer.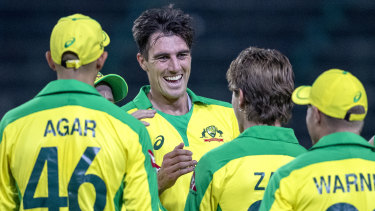 Speaking on Nine's Sports Sunday programme, Taylor said Chappell had "a very good point", but added: "It's going to be a juggling act firstly for the players but also for the boards because the Cricket Australia board will want to keep India happy.
"They may want to let the players go to India if the IPL goes ahead because they want India to come here this summer and play, which will be our biggest summer in terms of dollars."
Taylor was on the CA board until 2018.
Loading
Australia's top 20 men's players will, meanwhile, be paid out of a pool of $17.04 million over the next 12 months, it has emerged as CA signed off on a new percentage-based contracting model for 2020/21 proposed by the Australian Cricketers' Association to help deal with the impact of COVID-19.
A hold-up over state deals being done is also over, with the lifting of a contracting embargo on Monday allowing moves such as Adam Zampa and Chris Tremain's switch back to NSW and Peter Siddle's transfer to Tasmania to be completed.
Under the terms of the new percentage retainer system, which is optional, the player pool for female CA-contracted players is $1.57m. The player pool for each state is $2.2m for men and $376,000 for women. For Big Bash League teams the pool is $1.86m and for Women's BBL franchises it is $312,540.
There is confidence, however that salaries will not be impacted at all even with a major drop in the game's revenue projections. A slide would first eat into the players' adjustment ledger, their share of revenue above forecast since the last pay deal was struck in 2017. The balance of that fund currently stands at about $80m.
Chris Barrett is Chief Sports Reporter of The Sydney Morning Herald.