"I'm looking forward to seeing all my friends but not actually doing work," he said.
Loading
"I miss playing with my friends and seeing my teacher [in person]."
Hugo said if he had to choose a subject, he wouldn't mind being back in the classroom for English to focus on his writing.
"I sent [my teacher] Miss Currey a copy of the Isolation Times. She said it was pretty cool and was jealous she wasn't on our street.
"I'm doing the last edition today and then I will continue when the next world pandemic happens."
Mable Park State High School student Teyah Han said she could not wait to get back to school.
"I'm really excited to get away from my siblings and see all my friends again," she said.
"I haven't been to school for three months and I really miss playing rugby league at school and at my club.
"Dad was teaching us boxing to keep us fit but then he started working late so I haven't been training all that much."
Teyah said she found teachers sending videos and emails during the school term under COVID-19 restrictions an interesting experience.
"It has been kind of boring and hard sometimes because we always have to email teachers for help and sometimes they don't get back to you until days later," she said.
"It will be good to have them there in front of you and having to walk to different classrooms in between."
Kelvin Grove State College student Deklan Wright said he missed the social aspect of school life, chatting to friends and having a one-on-one experience with teachers.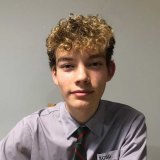 "It's been challenging especially with amount of resources are limited but teachers have done a good job at helping us," he said.
"I normally do what's hardest first and stick to a bit of a timetable so that's one of the nice things having online learning.
"Throughout the process, I've learnt better resilience and better communication skills.
"I've even been taking more responsibility for my work but I honestly can't wait to see my friends again."
Jocelyn Garcia is a journalist at the Brisbane Times, covering breaking news.