"Really good ride by Shane Jackson. He can be a little bit slow into gear and you can see early on in the race he was back but he made that decision to go forward early and there didn't look to be a lot of pace in the race and that's what I think the winning move was.
"It was always going to be a testing race, very heavy up the hill but he jumped well, he relaxes very well. It's great for these owners, he's been a really consistent jumper."
Jackson said fitness was the horse's advantage.
"I thought, 'he's the fittest horse in the race, toughest horse' and handled the ground," he said.
"He was a little bit slow away but I elected to stay out there and pop the first couple of jumps before we sorted out our order.
"Then he travelled super up on the pace, he was really interested. The visors have done a great job, his jumping was superb.
"I was left in front a long way out but I didn't want to have it turning into a sprint race either because he had just come off a Grand Annual run so there would be no issues with staying. Super, tough effort."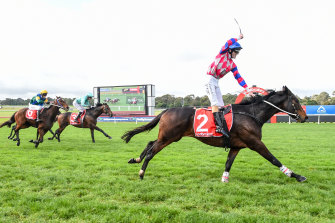 Maher said he had "three or four more assignments" planned for Bit Of A Lad, culminating in the Grand National Steeplechase at Ballarat on August 25.
Meanwhile jockey Darryl Horner claimed his first major win over the jumps in the Australian Hurdle on Sunday on Eric Musgrove's Galleywood winner Gobstopper.
"He's a pretty serious horse," Musgrove said.
"It was a very tough win in the Galleywood and he was tough today.
"We sort of knew that Runaway would take a sit so we were probably going to be left in front but we didn't, which was good.
"I think he's a bit better with a bunny. He jumped the second last and they came to me, then he just clicked into another gear and they were never going to catch him. He could have kept going."
Both feature races were run without incident.
Damien Ractliffe is the Chief Racing Reporter for The Age.