We hope each and every one of you are staying safe this wild and woolly Sunday evening.
This concludes our live coverage of the storm for today.
The severe weather is expected to intensify and get worse, with Perth set to be worst hit from this evening. So stay safe and take care.
Heed the warnings from DFES:
If outside find safe shelter away from trees, powerlines, storm water drains and streams.
Close your curtains and blinds, and stay inside away from windows.
Unplug electrical appliances and avoid using landline telephones if there is lightning.
If there is flooding, create your own sandbags by using pillow cases filled with sand and place them around doorways to protect your home.
If boating, swimming or surfing leave the water.
We will be back bright and early tomorrow to bring you all the news from the storm fallout. If you have any images, stories or suggestions, please email us at news@watoday.com.au
About 50,000 homes are bracing for a night without power after destructive winds associated with the front have thrown debris, including tree branches, into the network, damaging equipment and bringing down power lines.
Western Power spokesman Paul Entwistle said in the metropolitan area around 37,000 homes and businesses were impacted by outages and there were reports of a radio tower bringing down power lines in Bassendean and rooftops in Geraldton being dislodged and hitting the network, also bringing down power lines.
The most heavily affected suburbs were Beckenham, East Cannington, Kenwick, Bayswater, Bassendean, Mirrabooka, Dianella, and Malaga
"Our network operations teams, however, will look for opportunities to isolate damaged parts of the network and backfeed power to restore customers where it is safe to do so," he said.
"However, this will mean that some customers who are currently without power may need to make arrangements to be without power overnight.
He said 70 crews were currently addressing hazards on the network, but crews would not attempt any repair work during the storm because operating elevated work platforms (cherrypickers) and other equipment was not safe.
The Bureau of Meteorology is predicting the strongest storm winds will not reach the metropolitan area until after 5pm this evening, before moving down to the South West by around 8pm.
"Our priority during the storm is responding to the hazards being reported to us on 13 13 51 so we can make them safe and ensure the safety of the community and our crews," he said.
"We apologise for this inconvenience if you are impacted by outages overnight from this complex and unpredictable weather system."
Roofs have been ripped off from WA homes and businesses, trees have fallen on to roads and powerlines are out but there is nothing "out of the box" in terms of incidents during a severe weather warning, according to a Department of Fire and Emergency Services spokesman.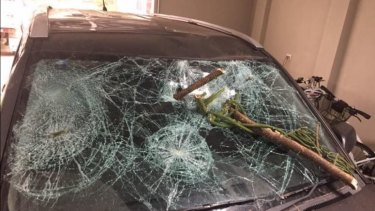 DFES spokesman Matt Folini said by Sunday afternoon the service had received 69 incident reports in the Midwest-Gascoyne region and 62 in the Perth Metropolitan area but that was to be expected.
"There is not a significant pocket in the state that has been affected by the storm," he said.
"The incidents reported are from all over, with some within the metropolitan area including Rockingham, Belmont, Cloverdale and Bassendean.
"There's been quite a few calls for structural damage, which is not out of the box at this stage, they mainly relate to roof damage and trees down."
Mr Folini said there was nothing of great significance but did note that the roof of a home on David Road in Waggrakine, a northern suburb of Geraldton, had been stripped back about 2.40pm.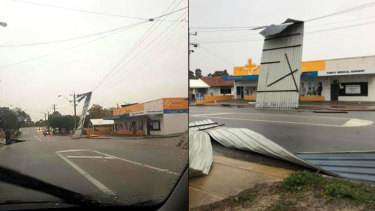 Images of fallen trees and roofs ripped off businesses, including a chemist in Victoria Park, are starting to flood social media and community group pages as the impact of the storm starts to pick up.
A row of shops in Bedford has also crumbled in the storm onslaught.
The Lahori restaurant, a lunch bar and a fish and chip shop on Grand Promenade have fallen victim to the strong winds.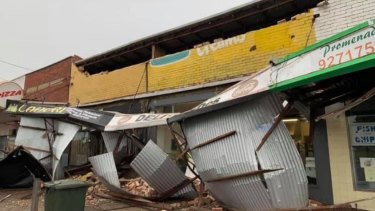 This Google Street View image shows what the shops looked like before.
Wind gusts of around 100 km/h have slammed the southwest from Onslow to Esperance, including the Perth metropolitan area.
Isolated wind gusts of up to 130 km/h are possible near the west coast this evening, and then the southwest early Monday morning.
Winds are expected to ease across the Pilbara and Gascoyne overnight tonight, and through the southwest during Monday afternoon and evening.
Strong winds have raised dust through large areas of the Gascoyne and Central West, blanketing many towns including Geraldton.
Rainfall totals in the Pilbara and western Kimberley coastal areas are likely to be around 20-40mm
with isolated falls in coastal areas from Cape Leveque and Broome down to Kalbarri of up to 100mm.
Heavy falls of rain are also likely down the west coast from Kalbarri to Albany with totals of around 20-30mm and some isolated falls up to 60mm.
Much of the agricultural areas are likely to receive falls in the range of 10-20mm.
Seas and swells are already being whipped up by the system for much of the west coast, with peak wave heights in excess of 8 metres predicted for the southwest on Monday, combining with higher than usual tides, and leading to significant beach erosion.
Storm tides are also likely to be dangerous and could lead to coastal inundation.
For Perth, severe winds are currently being observed and will continue through the night into Monday morning.
This is a rare event for WA due to the extent of the area affected and the possibility of multiple areas of dangerous weather.
About 30,000 Western Power customers across the state have been affected by power outages and problems caused by the storm so far, with the service provider already receiving more than 5000 calls.
Western Power spokesman Paul Entwistle told ABC Radio on Sunday afternoon the brunt of the storm was mainly affecting people in the north and metropolitan area at this point.
"Across the network we're looking at around just under 30,000 customers everywhere from Kalbarri in the north all the way through to Busselton, and there's a couple of small outages out near Albany," he said.
"But it's mainly the north and the metropolitan area that's copping the brunt of the storm at this point.
"To date we've already had just over 5000 calls come into our contact controls with people reporting outages and damage so from that we can find out where the hazard is and we send some of our primary response crews out to those straight away.
"A large pocket of people have been out for a little while now in Bassendean and we're getting a report there that is a structure, something like a radio tower or compounds being brought down into power lines."
Mr Entwistle said the majority of power outages and problems caused to the network had been as a result of debris flying into powerlines but that there wasn't a lot of reports of damage to the poles themselves.
"At least one roof has been blown into powerlines up in Geraldton, which is contributing to a lot of branches fouling up power lines, especially along that Port Denison, Dongara area," he said.
"The poles themselves, wind doesn't bother them too much, it's what's being flicked around by the wind.
"When you get foreign material introduced into the network at high velocity, it generally has an impact on power supply."
Mr Entwistle said Western Power's main priority right now was to respond to those hazards and reminded motorists that if they did see a Western Power truck with lights flashing and siren blaring, to keep to the left and follow the same process had they seen an ambulance or fire engine.
Emergency services have answered more than 91 calls for help in the last 24 hours.
Currently, damage has been mainly reported along coastal parts of the Midwest-Gascoyne region surrounding Geraldton and up to Kalbarri in the Pilbara region.
SES volunteers respond on a priority basis and people are asked to remain patient.
If your home has been badly damaged by a storm, call the SES on 132 500
In a life threatening situation call 000
As the West Australian coast is set to get "hammered" by "dangerous" and damaging waves, an experienced surfer is warning that no one should be out in these conditions.
Tom Walker, who has surfed the WA coast and international waves his entire 22 years of life, said that while there will be places to get waves as the storm brews, even the most experienced surfers may want to reconsider heading out in coming days.
From Sunday, the Bureau of Meteorology predicts the highest waves will be up to seven metres high along the Gascoyne to Geraldton coast before the South West gets hit with waves up to 10 metres by Monday morning.
Tom, whose father taught him to surf before he could even walk, on Sunday said the conditions were good in Margaret River where he lives and there'd be some "fun waves" to catch but conditions were going to dangerously change.
"Right now the swells picking up throughout the day … there's going to be fun waves around where I live but it's going to get way gnarlier as the day goes on," he said.
"There will be places to get waves but for the most part this whole coastline is going to get hammered and no one should be out. When it does hit eight metres, that's nuts, it's very dangerous."
Tom said with the "hectic" gusty winds, people should not be fishing off rocks either because they could get swept out to sea and there was a much higher probability of flash rips.
The former Perth local also warned people that places like Cottesloe would even be "really dangerous" over the coming days.
About 18,000 properties around the state have already lost power as the storm started to ramp up in the Mid West, Gascoyne and Perth metropolitan area.
Approximately 6,500 homes and businesses are impacted by the storm in the wider Perth area, with Mount Helena, Gidgegannup, Bailup, Sawyers Valley, Bayswater, Bassendean, Ashfield, and Wooroloo the mote heavily hit suburbs, according to Western Power spokesman Paul Entwistle.
In the northern part of the network just under 10,000 customers were affected by storm outages with the most heavily impacted towns being Kalbarri, Port Denison, Dongara, Cape Burney, Greenough, and Greenough.
Mr Entwistle said Western Power had a plan in place to respond to the increase in hazards or outages and significantly increased the number of emergency response crews available.
To assure the safety of crews some repairs, especially those requiring staff to work in elevated work platforms (or cherry-pickers), would not be attempted until wind gusts fall to a safe level.
Anyone seeing any damage to the network is urged to stay eight metres away and make the safe call to Western Power on 13 13 51.